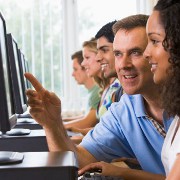 Photo: Getty Images
This has been an unusual year for us at Advocacy for Patients with Chronic Illness. In previous years, come the fall, we've gotten a load of requests for assistance from parents of students with chronic illnesses who want to plan ahead in case their child gets sick and misses a chunk of school. This year, though, the fall was quiet and we couldn't quite figure out why that would happen all of a sudden. I'm not sure this answers the question of why the fall was quiet, but this spring, we have been deluged with requests for help from families – usually moms – at the end of the school year, when they realized all of a sudden that the school didn't do what they had promised to do, and instead, their child was flunking classes or, in some cases, not graduating on time.
Schools are obligated to accommodate students with disabilities under a law called Section 504 of the Rehabilitation Act. A "disability" in this context is a substantial impairment of a major life activity. Major life activities are things like walking, talking, seeing and hearing, but also bowel, digestive and immune functions. It's not enough to have a digestive problem; it must "substantially impair" the digestive function, for example.
If the student has a disability, then the school has to provide reasonable accommodations. What's reasonable differs from one case to the next. Accommodations can be anything from easy access to restrooms to extra time on tests to the ability to reschedule assignments, get homework assignments sent home, get class notes – or even tutoring in the case of long-term absences.
Some schools think they don't have to provide accommodations unless a student is doing badly in school. This is wrong. Under another law – the Individuals with Disabilities Education Act or IDEA – a disability only "counts" if, by reason of the disability, the student needs special education services. So, for example, a student with a learning disability would be entitled to services under IDEA, but a student with diabetes and only diabetes, which does not give rise to the need for special education services, would not be entitled to services under IDEA, but they still would be entitled to services under Section 504.
It is challenging to come up with reasonable accommodations for an illness that comes and goes, that can be active one week and in remission the next. There is no question that the law does apply to chronic illnesses; it says that an episodic illness that is disabling when active is considered a disability when in remission. However, coming up with a plan that meets all contingencies, from a short absence to a longer hospitalization, takes creativity and flexibility.
We believe that, no matter how difficult, even if the disease is in remission, a student with a chronic illness should have a Section 504 plan in place so that, in the midst of a health care crisis, the school-related aspects of the student's life already are figured out and a plan is in place. But most of all, we strongly urge you to deal with this at the beginning of the year, and to check in with the school when your child is absent, especially if you are not getting all of the services that are laid out in your Section 504 plan. If you wait until the end of the school year, there simply may not be time to fix problems that already have occurred, and the student may end up in summer school or even being left back. Planning is key.
Edited by Alison Stanton