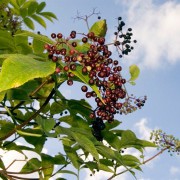 Photo: Getty Images
If you are a fan of the movie "Monty Python and the Holy Grail", you may already be familiar with the elderberry tree from the memorable quote "your mother was a hamster and your father smelt of elderberries." Although I've seen the movie several times and have always found that line to be highly amusing, it wasn't until just recently that I learned that the plant has been used for centuries to enhance health in a variety of ways.
Many parts of the elderberry tree, including the flowers, leaves, bark, roots, and berries, have been used in traditional folk medicine. The berries are a rich source of vitamins A, B, and C, as well as amino acids, flavonoids, and tannins. Wine made from elderberries, particularly when warmed up a bit, has been used as a natural remedy for sore throats, the chills, the common cold and the flu (so maybe the father in the above quote wasn't feeling too well and turned to elderberries for comfort and relief?).
The berries may also help with inflammation of both the bladder and the urinary tract. Please don't go out and find an elderberry tree and start eating the fresh berries, as the seeds are toxic. But people who drink elderberry juice without any seeds have reported it has helped their colds feel better, as well as bronchitis and asthma.
Elderberry leaves are rich in both rutin and quercetin, vitamin C, and alkaloids, among other things. The flowers of the elderberry have natural astringent properties and are sometimes found as an ingredient in skin care products like facial washes. The flowers, when added to water, can be an effective gargle or soothing rinse for strained eyes.
Elderberries, which sometimes go by the nickname of "the medicine chest of the common people," presumably because they seem to be useful for so many different ailments, appear to have some clinical research supporting their health benefits. For example, at the Bundesforschungsanstalt research center for food in Karlsruhe, Germany, researchers conducted studies on elderberries to see if they truly enhanced immunity. The scientists found that the anthocyanins present in elderberries improved the function of the immune system by increasing the production of cytokines, which are proteins that work in the immune system to help it respond properly and defend our bodies against incoming germs. Additional study showed that elderberries are a more potent antioxidant than either vitamin C or E.
Another study of elderberries, this one at the University of Graz in Austria, showed that elderberry extract lowers the oxidation of LDL cholesterol. The 2000 version of Mosby's Nursing Drug reference has elderberry on the list for nasal and chest congestion, flu, colds, and other ailments.
Have you ever taken elderberry? If so, what did you use it for? Did you find that it helped you?
References:
www.herbwisdom.com/herb-elderberry.html
www.kcweb.com/herb/elderberry.htm