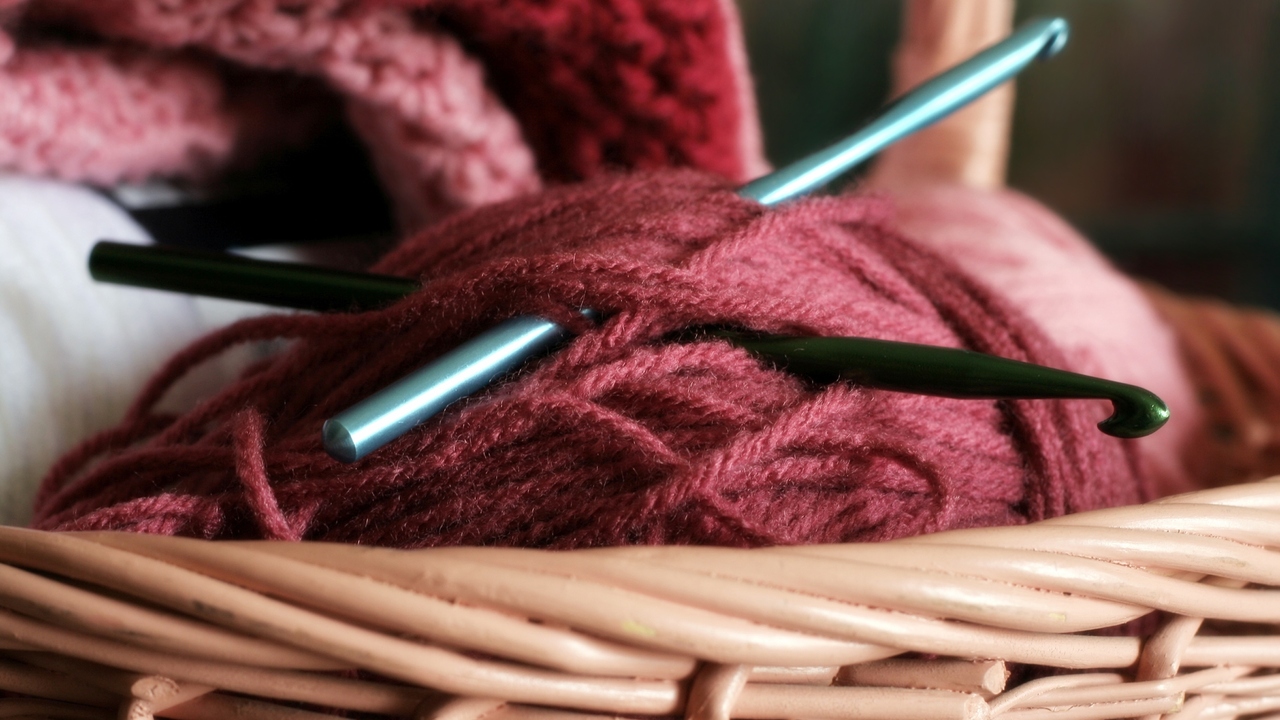 Liz Van Steenburgh/PhotoSpin
Happy National Crochet Week! To lovers of crochet, there are only two types of people in the world: people who crochet, and people who don't ... yet.
And there are two times of year: National Crochet Month when wielding the hook is celebrated and the other 11 months when ... well, it's celebrated then too.
The Crochet Guild of America decided to celebrate one week of National Crafts Month. In 1998, National Crochet Week was declared by CGOA to fall on the second week of March. This year it's March 16-22, 2015.
Things must have caught on nicely because in 2000, March was declared National Crochet Month. In 2005, the celebration was extended to the whole month of March as National Crochet Month.
Crochet is not knitting. Knitting involves two needles, while crochet uses only one hook. Like knitting, crochet can be used to create blankets, baby clothes, hats, scarves, shawls, mittens, just to name a few items.
All this grand creating can have be good for your mental, emotional and physical health as well.
Author Kathryn Vercillo of the book "Crochet Saved My Life" describes some of these benefits in a Lionbrand.com article:
1) Crochet can decrease depression by increasing serotonin production.
2) Crochet can ease anxiety.
3) Crochet can hike your self-esteem as you learn new skills and become productive with them.
4) Crochet promotes better sleep.
5) Crochet reduces stress.
6) Crochet helps process grief with its soothing, rhythmic motion.
7) Crochet may even delay or decrease signs of dementia.
To crochet is to set off on an optimistic undertaking. The crocheter picks up a formless skein of yarn, with a full-blown scheme or sometimes just the germ of an idea in mind to create something out of nothing.
Want a new hat? Make it in the style and color you want. Feel a little chilly in the evenings? Wield your hook, and create a warm and cozy shawl to cuddle in.
Does that new sweater or blouse need a little extra something? Crochet a unique trim that just fills the bill, and matches the picture in your imagination ... or comes close enough to make you happy.
And if your project doesn't turn out quite the way you hoped? The crocheter smiles and embraces the new surprise, then picks up the hook again, and embarks on another adventure.
I'm relatively new to the art of crochet myself. I've been a knitter for many years, but have only recently taken the leap into the world of the crochet hook.
The Internet offers so many tools, and so many devoted crocheters who eagerly offer advice and suggestions to the newbie.
Can't understand the instructions? Watch a video.
Can't get from Point A to Point B on your own? Join a forum or a Facebook page and prepare to be bombarded with the greatest and most varied hints, patterns and encouragement you've ever had the pleasure to be knocked over by.
You can be a purist and just crochet, or you can mix and mingle your skills. I have knitted slippers and and boot cuffs and then crocheted their trim for a more decorative look. I have crocheted a contrast trim on knitted baby sweaters and hats.
I've become braver and have plunged into crocheting a cowl for a friend, enjoying the fact that crocheting such a project will take less time than it would to knit.
Crochet can be delicate. Lacy textures, airy patterns with an eyelet effect, can be produced in many types of yarn. Using crochet thread for instance can create a finer, gossamer effect.
On the other end of the spectrum, crochet can be weighty and substantial. Make a basket or slippers substantial enough to stand on their own. Create a wall-hanging with pockets to hold your hooks and other supplies. Use double strands of heavy yarn to create a fabric with strength and density.
Want to celebrate Crochet Week? If you're already a fan of crochet, this will be a work of love, and the possibilities are limited only by your imagination and the amount of time you can put into your project.
Learn a new crochet technique, make a crocheted gift, donate a crocheted item to a worthy cause. Teach someone else the joys of wielding the hook.
There is always something new, challenging and gratifying around the next crochet corner. And chances are, you or someone you love can wear it when it's finished.
Sources:
National Crochet Month. Retrieved March 15, 2015.
http://www.crochet.org/?page=NationalCrochetMonth
National Crochet Crafters Week. Retrieved March 15, 2015.
https://thecheeps.wordpress.com/2014/03/13/national-crochet-crafters-week
The History of National Crochet Month. Retrieved March 15, 2015.
http://thehhcc.blogspot.ca/2012/02/history-of-national-crochet-month.html
10 Most Important Health Benefits of Yarncrafting
https://blog.lionbrand.com/10-most-important-health-benefits-of-yarncraf...
Visit Jody's website at http://www.ncubator.ca
Reviewed March 16, 2015
by Michele Blacksberg RN