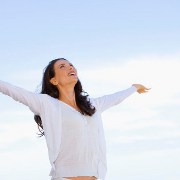 Photo: Getty Images
I have previously written about my friend, small town mayor Jim Pearman, whose life was saved from a heart attack when he drove himself to a local fire station. He thought he was a goner in the ambulance on the way to the hospital and had a second heart attack at the hospital. Jim's smart thinking to call 911 while experiencing the heart attack, getting to the fire station, and then receiving good emergency heart care saved his life.
So how do you proceed in life when you've been given a second chance? I got an earful from Jim in our neighborhood park recently as we both walked our dogs.
Jim went into great detail on how close he'd come to death. So close he was telling the ambulance crew to tell his wife and children how much he loved them and to give them the St. Joseph's medal from around his neck. Jim was ready to die and fighting to do it with dignity. Despite the excruciating pain from a blocked vessel to his heart, he tried his best not to curse. He was even saying "thank you" to the medical personnel.
Whether St. Joseph was protecting him or not, Jim didn't die. And, like many of us who have survived potentially fatal situations, he came out the other side pondering the meaning of life.
In Jim's case, as Mayor of Mercer Island, Washington, near Seattle, he was already dedicated to public service. Now he saw how petty the debates could be, how negative some of the challenges could be, and he was determined to take the high road.
Jim also works as a mediator for the federal government. Again, he is trying to bring people together, to see their common interests in a positive way, and get past the petty, small stuff.
Having a second chance at life often has that impact. You don't sweat the small stuff and you focus on leaving a positive legacy since you now know how fleeting life can be.
I recognize most who read this have not had a near death experience like Mayor Jim's, nor a "terminal" illness diagnosis like mine (leukemia). But you don't have to personally have this experience to recognize the need to make the most of each and every day. Jim's remarks in the park reinforced that for me, and maybe you too.
Edited by Shannon Koehle