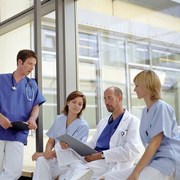 Jochen Sands/Digital Vision/Thinkstock
Choosing a new physician can be tough whether you've moved or if it's time for a change.
A good way to start is to ask for recommendations from people you know, but that doesn't always work out. Selecting the right doctor is an individual choice only you can make.
Unfortunately, your choices may be narrowed down by your insurance plan, so make sure you ask for a list of doctors from your insurance before you begin the search.
When calling for an appointment, asking essential questions that concern you will help rule out many issues later on.
Here are eight important questions to ask when seeking out a new doctor:
1. Payment Method
Even if the practice accepts your insurance, it's important to know up front whether you are expected to pay at the time of the visit, after your deductible is met, or if you will be billed after the insurance payment has been collected.
If you don't have insurance, ask if the office accepts payment plans. It's better to know before your appointment.
2. Location
Make sure it's an easy commute and/or accessible by public transportation. If you are disabled in any way, ask if the practice has handicapped parking, entrances, and elevator access.
3. Affiliations
Find out which hospital(s) the doctor is affiliated with and decide whether or not you feel comfortable being treated there. It's also good to know if they do lab work and X-rays in-house.
Having to commute to a different facility or one who doesn't accept your insurance could be a problem. If you live in a smaller city, you may not have a choice, but it's good to know.
4. Gender
If you feel more comfortable with a female physician, ask for a female doctor before you make the appointment. Most of the larger practices have male and female doctors these days, but you need to ask.
The head physician may be male and have a female nurse practitioner (NP) that also takes patients. NP's that are fresh out of school may be up on the latest medical knowledge and technology.
Rest assured, if your condition were serious, the NP would always consult the MD.
5. Language
Many excellent doctors in the United States originated from other countries and while most are fluent in English (and Spanish if you live in a Spanish-speaking region) it's important to find out.
If you can't understand the receptionist when you call, you should consider trying another practice. After all, this is your health and you don't want to leave the doctor's office with questions because of a language barrier.
6. Hours
If you work until 5 p.m. and your doctor closes at 4:30, and isn't open on Saturdays, you might have a problem unless your good-hearted employer allows you to take sick time for doctor visits.
Many times practices will be open one or two nights a week and/or Saturday mornings. Also ask if they have a doctor-on-call in case of emergencies.
7. The Wait
Most of the time, the receptionist will inform you as to the expected length of the appointment, but that doesn't include the time spent in the waiting room. The staff often has no control if the doctor gets backed up or has been called out for an emergency.
If your time is limited, it's often best to take the first appointment in the morning or right after the doctor's lunch break.
8. Other Time Issues
It's always good to ask how far ahead you need to call for a routine visit. It may be months before you can make an appointment with a well-established, popular physician. This may also be the case for a sick visit.
If you have your heart set on using this practice, consider a junior doctor on the staff instead. Remember, new, underestablished physicians are looking to build up their clientele, so they want to please their patients at all costs.
Sources and further reading:
Need a doctor? 19 Must Ask Questions. More.com. Web. 24 July, 2012.
http://www.more.com/find-a-doctor
How to Choose a Doctor. Medicinenet.com. Web. 24 July, 2012.
http://www.medicinenet.com/script/main/art.asp?articlekey=47649
The Take-Charge Patient by Martine Ehrenclou. Web. 24 July, 2012.
http://www.amazon.com/The-Take-Charge-Patient-Best-Medical/dp/0981524036/ref=sr_1_sc_1?ie=UTF8&qid=1333483153&sr=8-1-spell
Reviewed July 24, 2012
by Michele Blacksberg RN
Edited by Jody Smith