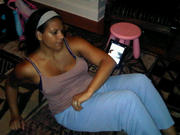 I think "someone" is trying to tell me something! First, I get the opportunity to become a HERwriter for EmpowHER, a women's health and wellness media company, and then I get an opportunity to be a Glam correspondent testing out the Nike Training Club app. Ok...ok...I get it. I need to focus on my health and get back in shape. Let's do it!
I downloaded the Nike Training Club from iTunes and was surprised to find out that it's FREE. Wow! This app is a full-body training app for the iPhone (or iTouch/iPad) designed to help you build on the fundamentals of strength, cardio, interval and core training. There are 4 key tracks on this app: Get Lean, Get Toned, Get Strong, and Get Focused. I chose the Get Focused track because the workouts are quick (15 minutes) and I can focus on specific areas (mainly my abs, butt, and legs). I don't want to be a super model but just get back into my pre-baby clothes. I had three babies in the last four years, and am ready for skinny jeans again!
I will be posting about my progress using the app here every Wednesday for the next six weeks. I hope to have some great results to report...even SOME results would be nice. I want to look better and feel better and I think this this may be just the thing to help me.
I did my first workout today (abs blaster) and it was great. By great, I mean hard, sweaty and will make me sore tomorrow. But it was easy to follow and I liked the way the app counted down the last few seconds of the activity. The short, simple, repetitive drills work well with my workout mentality. I'm competitive by nature and I know that I can do anything for 30 seconds or 1 minute.
And guess what? It's not all about me. (Thank goodness!) You can win some great stuff from Nike just by following along with my journey. Stay tuned next week to enter into an exciting Nike Training Club sweepstakes for a chance to win prizes towards your fitness goals!
The Nike Training Club App is a full-body functional training app designed for you to make yourself whatever you want to be. Whether you're looking to get lean, toned, or strong, NTC takes every workout to the next level. Download it here.
Disclosure: Compensation was provided by Nike Women via Glam Media. The opinions expressed herein are those of the author and are not indicative of the opinions or positions of Nike Women.