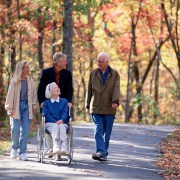 Photo: Getty Images
Former First Lady Rosalynn Carter said, "There are only four kinds of people in the world: those who have been caregivers; those who are currently caregivers; those who will be caregivers; and those who will need caregivers."
According to the Red Cross, "more than 44 million families in the U.S. are caring for a loved one at home." The Rosalynn Carter Institute for Caregiving stated that caregivers in the U.S. provide more than $350 billion worth of unpaid services annually. And, each year and nationwide more $700 billion is spent on paid home-care and nursing homes.
Because the caregiving industry is so fragmented, EmpowHER.com has provided some of the top caregiving websites. These sites offer everything from caregiving tips, recipes, legal and financial information, additional resources, as well as caregiving facts and statistics.
You will also find sites which are specifically dedicated to veterans who are in need of caregiving.
Feel free to add your own caregiving resources in the comments section.
Well Spouse Association – http://www.wellspouse.org/
This nonprofit organization's website offers some great resources for caregivers. Also, there is a section for military spousal caregiving.
eCare Diary – http://www.ecarediary.com/
eCareDiary has just about everything you need regarding caregiving. Cost calculators, legal documents, and videos of caregivers are all located at this site. Also, you can sign up for a free newsletter which features expert interviews, caregiving tips and articles on caregiving.
AARP - http://www.aarp.org/relationships/caregiving/
The Caregiving Web Page contains a plethora of articles on caregiving. Some examples of articles include a step-by-step guide on how to give a bed bath and a question and answer section on caregiving.
Centers for Disease Control and Prevention - Healthy Aging Program – http://www.cdc.gov/aging/
This government website has just about everything. You will find the latest statistics, as well as information on other topics like mental health and aging and emergency preparedness and older adults.
Caring Today – http://www.caringtoday.com/
This websites logo is "help yourself, help others." This site specifically targets the caregiver. For example, the help yourself section has tips to reduce stress, stay fit, arrange respite care, caregiver stories and support resources.
Caregiver.com – http://www.caregiver.com/
This website offers up-to-date information on caregiving. It also has recipes, caregiving tips and care resources.
Caring.com – http://www.caring.com/
Caring.com offers practical information ranging from caregiving wellness to legal and financial matters. Also, there is a senior living directory and a section for in-home care issues.
Family Caregiving eXtension – http://www.extension.org/family%20caregiving
This site has online education sessions, articles on caregiving and answer section. Some articles deal with medication issues, using the Internet and conducting a kinship retreat.
Family Caregiver Alliance – http://www.caregiver.org/caregiver/jsp/home.jsp
The Family Caregiver Alliance delivers everything from public policy to webinars. Also, the site has a "Family Care Navigator" which locates caregiving resources across the U.S.
Other online sources:
Videocaregiving - http://www.videocaregiving.org/
My Senior Care - http://www.myseniorcare.com/
This Caring Home - http://www.thiscaringhome.org/
Next Step in Care - http://www.nextstepincare.org/ (Spanish, Chinese, Greek)
Family Caregiving 101 - http://www.familycaregiving101.org/
Long-Term Care: Fact on Care in the U.S. - http://ltcfocus.org/default.aspx
Medicare caregiver information - http://www.medicare.gov/Caregivers/
VA Caregiver Support - http://www.caregiver.va.gov/
Sources:
http://www.nfcacares.org/who_are_family_caregivers/
http://online.wsj.com/article/SB10001424052702304665904576383483508416152.html
http://www.redcross.org/portal/site/en/menuitem.d229a5f06620c6052b1ecfbf43181aa0/?vgnextoid=58d2914124dbe110VgnVCM10000089f0870aRCRD&vgnextchannel=bf970c45f663b110VgnVCM10000089f0870aRCRD
http://www.rosalynncarter.org/
http://www.rosalynncarter.org/case_for_caregiver_support/
http://www.rosalynncarter.org/caregiver_resources/
http://www.springerlink.com/content/978-1-4419-8030-4#section=864644&page=2&locus=25
Reviewed June 15, 2011
Edited by Alison Stanton