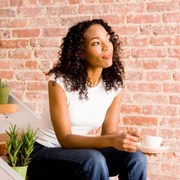 Creatas Images/Thinkstock
Every morning across the United States and the rest of the world, millions of people start their day by drinking a cup of coffee or another beverage in need of a little something sweet.
This is where the question arises that leaves java-lovers split in opinion.
What type of sweetener should I put in my drink?
"Sugar!" says one side, while the other is adamant about using a sugar alternative such as Splenda, Equal, Sweet 'N Low, or -- the newest addition to the alternative family -- stevia.
Those who prefer the alternatives often use these because they feel it doesn't interfere with being on a diet.
Artificial sweeteners have had mixed reviews for as long as they have been in use, so one would think that the introduction of natural sweeteners, such as stevia, would create a buzz of excitement among consumers.
A buzz was certainly created, but once again, not always for the right reasons.
Stevia is a plant native to South America, found primarily in Paraguay. According to the Stevia website, "the human body does not metabolize the sweet glycosides (they pass right through the normal elimination channels) from the leaf or any of its processed forms, the body obtains no calories from Stevia. Processed forms of pure Stevia can be 70-400 times sweeter than sugar."
This inability for the body to process the compounds found in Stevia is exactly why researchers are so torn about its safety. In addition, Stevia can cause a drop in blood pressure, which can be potentially dangerous to those suffering from this condition, according to WebMD.com.
Katherine Zeratsky, R.D., L.D. a Mayo Clinic nutritionist said on the clinics website that, "The FDA hasn't approved whole-leaf stevia or crude stevia extracts as food additives because of concerns about possible health effects. In particular, the FDA has concerns about the effects of stevia on blood sugar control, the kidneys, and the cardiovascular and reproductive systems."
A recent article published in the New York Times stated that when it comes to Stevia, "[The Center for Science in the Public Interest] gives it a 'caution,' because cancer studies were conducted in only one species of lab animals. ("Just because a substance is natural does not mean that it is safe," the center's Web site warns)."
Speculation may always be in the shadow of artificial and natural sugar substitutes, haunting those who look for alternatives to their high calorie all-natural counterpart, sugar.
As long as it is consumed in moderation, researchers agree that the harmful effects of these are relatively minimal.
Sources:
May, James. "Stevia - Sweetener of Choice for Future Generations." Stevia.com. Stevia, n.d. Web. 15 June 2012.
http://www.stevia.com/Stevia_Article.aspx?Id=2413
"Find a Vitamin or Supplement: Stevia" WebMD. WebMD, 2009. Web. 15 June 2012.
http://www.webmd.com/vitamins-supplements/ingredientmono-682-STEVIA.aspx...
Chang, Kenneth. "Choosing a Sugar Substitute." Well. New York Times, 11 June 2012. Web. 15 June 2012.
http://well.blogs.nytimes.com/2012/06/11/which-sweetener-should-you-choo...
Zeratsky, Katherine. "Stevia: Can It Help Weight Control?" Mayo Clinic. Mayo Foundation for Medical Education and Research, 18 Nov. 2010. Web. 15 June 2012.
http://www.mayoclinic.com/health/stevia/AN01733
Reviewed June 18, 2012
by Michele Blacksberg RN
Edited by Jody Smith