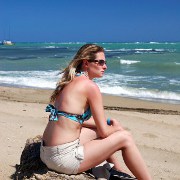 Photo: Getty Images
If you are planning to go to one of our nation's beaches this Fourth of July, you may want to change your plans after you read the Natural Resources Defense Council's (NRDC) worst and best beaches in the U.S. The best and worst beaches were rated by NRDC based on several factors. Those factors include contamination, closures, etc.
Contaminated beaches generally have a high concentration of raw sewage, contaminated storm water or fertilizer run-off. The following beaches were the most contaminated over a five year period:

• Cabrillo Station Beach in Los Angeles County, Calif.
• Doheny State Beach in Orange County, Calif.
• Keaton Beach in Taylor County, Fla.
• North Point Marina North Beach in Lake County, Ill.
• Beachwood Beach West in Ocean County, N.J.
• Villa Angela State Park in Cuyahoga County, Ohio
• Ropes Park in Nueces County, Texas
• Eichelman Park Beach in Kenosha County, Wis.
• South Shore Beach in Milwaukee, Wis.
The Environmental Protection Agency (EPA) estimated that more than 3.5 million people have become sick because of swimming at an unsanitary beach.
Pregnant women, seniors, children, cancer patients and those with weakened immune systems are extremely vulnerable if they swim in a contaminated beach. Children are in particular danger of catching an illness because they are more likely to swallow contaminated water while swimming.
Contaminated beach water can cause serious health problems. Types of illnesses you can catch include: dysentery, skin rashes, pinkeye, stomach flu, meningitis, hepatitis, respiratory infections, gastroenteritis and ear/nose/throat issues. Also, seek immediate medical help if you suffer from shortness of breath after swimming in contaminated water.
The following tips are recommend by the Red Cross if you believe you may have been swimming in contaminated beach water:
• Immediately leave the contaminated area
• Place contaminated clothes into a plastic bag
• Immediately shower with fresh water and soap or a mild detergent
• When showering, consider using a product which removes oil and grease from your skin
• Wash contaminated clothing with fresh water and detergent. Throw out the plastic bag
• Wash contaminated clothes separate from other clothing
• If any clothing items do not become clean after washing, throw them away
The NRDC recommends avoid swimming at beaches 24 hours after a storm and avoid swimming near drain run-offs.
The NRDC rated the following the best beaches in the U.S.:
• Rehoboth Beach-Rehoboth Avenue Beach in Sussex County, Del.
• Dewey Beach in Sussex County, Del.
• Park Point Lafayette Community Club Beach in St. Louis County, Minn.
• Hampton Beach State Park in Rockingham County, N.H.
There are also preventative measures beach-goers can do to prevent additional beach water contamination. These measures include:
• Pick up your garbage and place in a secure garbage can
• Do not feed wildlife
• Remember to pick-up after your pet
• Make sure toddlers wear rubber pants or beach diapers while swimming in the water
Also, before you venture out to one of the beaches, check the EPA's Beach Advisory and Closing website at http://iaspub.epa.gov/waters10/beacon_national_page.main for beach closings.
Have a happy and safe Fourth of July!
Sources:
http://travel.usatoday.com/destinations/story/2011/06/Eco-survey-Hit-the-beach-at-your-own-risk/48931854/1
http://www.nrdc.org/water/oceans/ttw/titinx.asp
http://www.nrdc.org/water/oceans/ttw/ttw2011.pdf
http://www.redcross.org/portal/site/en/menuitem.1a019a978f421296e81ec89e43181aa0/?vgnextoid=886d19439f749210VgnVCM10000089f0870aRCRD
Reviewed June 30, 2011
by Michele Blacksberg R.N.
Edited by Alison Stanton