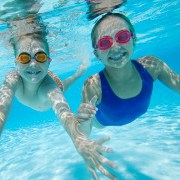 Photo: Getty Images
According to the Centers for Disease Control and Prevention (CDC), "swimming is our country's third most popular recreational sport for children." Also, the CDC stated, more than 360 million people will swim in our country's oceans, lakes, pool and hot tubs annually.
Swimming is an excellent form of exercise and a great way to stay cool during the hot summer months.
However, swimming can be dangerous. In a study recently published in Pediatrics said, "a child drowns in a portable backyard pool once every five days during the summer months." Also, small children can drown in water only 2 inches high.
As our nation stays cool this summer, there are some very important swimming safety tips to keep in mind. These tips are provided by the CDC, U.S. Consumer Product Safety Commission and American Academy of Pediatrics.
Safety tips for parents:
• In case of emergency, keep a phone close to your person at all times
• Never leave a child unattended
• Keep all swimmers hydrated
• Check the pool first; if a child has disappeared or gone missing
• Take frequent bathroom breaks
• Frequently change your child's diapers
• Apply sunscreen and reapply every two hours
• Small children should wear a life-preserver or life jacket
• Keep children away from pool openings (pipes, drains, etc.)
• Always have "two eyes" on children
• Exit the pool immediately if you hear thunder and/or see lightning
Safety tips for all swimmers:
• Take a CPR class and first-aid class
• Review the life saving basics in case of a pool emergency
• Consider taking a "refresher" diving or swim class
• Never go swimming if you have diarrhea. Germs from diarrhea can make others in the pool very sick
• Avoid swallowing or drinking pool water
• Wash your hands after diaper changes and bathroom breaks
• Shower with soap before and after swimming in a pool or hot tub
• Be aware of heat stroke symptoms--it generally starts with a headache. Confusion and cramps are other symptoms
Swimming pool deaths of children under five mainly occurred in their own backyards. Adult supervision is key. If possible and to avoid distractions, forward your phone to a voice-mailbox or put your cell phone on vibrate. Even a small wading pool can be dangerous to a small child.
Swimming pool safety:
• Prior to swimming, have a locked visual on life-rings or poles for a possible life-saving emergency
• A four-foot-high fence should be installed around a hot tub or pool
• All gates should be self-latching or have self-closing mechanisms
• Secure drain covers tightly. Pool covers can be a death trap for a small child
• Consider the installation of an alarm on the pool gate
• Avoid using large buckets as toys in the pool. A small child can fall headfirst and drown in a large bucket
• To avoid anyone being cut, sand, file or tape sharp pool edges
• Check the pool's chlorine and pH twice a day. Chlorine has a slight odor
Sources:
http://www.cdc.gov/healthywater/swimming/pools/six-steps-healthy-swimming.html
http://www.cdc.gov/healthywater/swimming/pools/
http://www.cdc.gov/healthywater/pdf/swimming/resources/pool-user-tips-factsheet.pdf
http://www.healthychildren.org/english/safety-prevention/at-play/Pages/Swimming-Pool-Safety.aspx?nfstatus=401&nftoken=00000000-0000-0000-0000-000000000000&nfstatusdescription=ERROR%3a+No+local+token
http://www.reuters.com/article/2011/06/21/us-drowning-pools-idUSTRE75K07820110621
http://abcnews.go.com/Health/protect-children-summer-dangers/story?id=13888483
http://www.cpsc.gov/cpscpub/pubs/367.pdf
Reviewed June 23, 2011
Edited by Alison Stanton