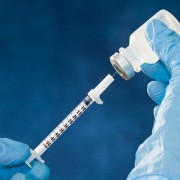 Photo: Getty Images
Tetanus remains a rare but life-threatening disease, caused by the toxin of a spore-forming bacterial species. The bacteria and their spores are widely distributed in soil. The Centers for Disease Control and Prevention (CDC) provides information on its websites and in its Morbidity and Mortality Weekly Report.
Dr. T. Tiwari and colleagues prepared a report on tetanus in the United States during the period 2001 – 2008. There were 233 total reports, with outcome data available for 197 cases. Death from tetanus affected 13.2 percent of these.
California, Florida, Texas, New York, and Pennsylvania together accounted for 51.5 percent of reported cases. People aged 65 and older, those with diabetes, and injection drug users had elevated rates of both infection and death, compared to the general population.
I grew up hearing that tetanus is contracted by stepping on a rusty nail. The CDC found that 71.7 percent of the U. S. tetanus cases were associated with an acute wound, mostly puncture wounds. However, rust was not mentioned.
The U. S. National Library of Medicine's PubMed Health website explains that spores of the tetanus-causing bacteria can live for 40 years in the soil. When the spores enter the body through a wound, they produce infection. The growing bacteria produce a toxin called tetanospasmin, which causes severe muscle spasms. The jaw muscles are often affected first. Thus, tetanus is traditionally known as "lockjaw".
In the CDC report, chronic wounds including diabetic ulcers and dental abscesses were also associated with tetanus infection. Of the 22 patients who reported no wounds, 14 were injection drug users.
Vaccinations and wound management are the keys to preventing tetanus. "Patients might not receive optimal tetanus prophylaxis as part of wound management because of the trivial appearance of many wounds," Tiwari explained. In addition, most of the tetanus patients were not up to date on their vaccination status.
Tetanus booster vaccinations are recommended once every 10 years for adults. In a separate article from the CDC, Dr. B. L. Miller reported that 61.6 percent of American adults in 2008 had been vaccinated for tetanus within the last 10 years.
Tetanus vaccinations are available from many pharmacies without a prescription, just as flu shots are.
References:
1. Centers for Disease Control and Prevention, "Tetanus surveillance – United States, 2001 – 2008", MMWR Morbidity and Mortality Weekly Report 2011 Apr 1; 60(12):365-9.
http://www.ncbi.nlm.nih.gov/pubmed/20948508
2. Centers for Disease Control and Prevention, "Tetanus and pertussis vaccination coverage among adults aged > 18 years – United States, 1999 and 2008", MMWR Morbidity and Mortality Weekly Report 2010 Oct 15; 59(40): 1302-6.
http://www.ncbi.nlm.nih.gov/pubmed/21451446
3. Centers for Disease Control and Prevention. Tetanus. Web. Dec. 12, 2011.
http://www.cdc.gov/vaccines/vpd-vac/tetanus/in-short-both.htm
4. U. S. National Library of Medicine. PubMed Health. Tetanus. Web. Dec. 12, 2011.
http://www.ncbi.nlm.nih.gov/pubmedhealth/PMH0001640
Reviewed December 22, 2011
by Michele Blacksberg RN
Edited by Jody Smith