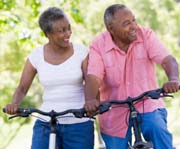 With each New Year comes the idea of a new beginning. Each year is a fresh starting point to set goals and make changes for the better. Most people will set goals that they hope to accomplish for the upcoming year. As I sit with Dick Clark watching a bunch of people who I have never heard of before perform, the screen flashes the top five New Year's resolutions. I am intrigued and wanted to share the list. Here are their top five New Year's resolutions.
5. Spend more time with loved ones.

4. Get organized.
Seriously, who doesn't want to do this? I feel like this is a constant goal of mine and the beginning of a new year is a good time to jump start the effort. I find it best to set priorities and tackle small projects one at a time. You will really be able to see your progress with this approach.
3. Enjoy life.
In a world where most things are fast paced, people tend to work hard and concentrate less on doing things that truly make them happy. This one is the hardest because it feel s the most selfish. Relax now and then. Slow down from time to time. A happier life is a healthier life.
2. Learn something new.
Never stop learning or expanding your interests. Enroll in a class, travel somewhere new or challenge yourself to do something that you never dreamed you would. Knowledge and life experiences make a person whole.
1. Get fit.
This is not my New Year's resolution, it is my weekly resolution. It takes constant effort. I always notice that my gym is packed in January but by February or March, I have no problem finding an empty machine or a parking spot. Strive to make fitness a daily goal of yours. Eat right and stay active. I love that the No. 1 resolution is not to lose weight but to get fit. Being healthy is not just about losing or gaining weight, it's about strengthening your body, inside and out.
What's your resolution this year?