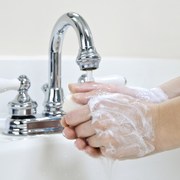 MonkeyBusiness Images/PhotoSpin
Triclosan has been in use as a chemical additive since the 1960s, as a way to kill bacteria.
It was seen as a good thing at the time but research has raised questions as to whether triclosan is actually a health hazard.
An Aug. 13, 2012 article on Smithsonianmag.com reported on a paper which found that triclosan affects humans, not just animals, in muscle function. It can cause problems with contraction of our muscles.
This research was carried out at the University of California, Davis, and was published on this date in the Proceedings of the National Academy of Sciences.
According to the Smithsonian blog, triclosan has been seen in studies to disrupt certain animals' endocrine systems. It binds to receptor sites, causing abnormalities in the operation of thyroid hormone.
Triclosan's effects may be far-reaching, because according to the study's lead author Isaac Pessah, it's found in our homes and in our environment.
Research of human muscle cells in the heart and typical skeletal muscles indicated that communication between certain proteins was abnormal due to the presence of triclosan.
Co-author of the study Nipavan Chiamvimonvat cautioned that triclosan had a significant impact on heart function, acting as a cardiac depressant.
Triclosan could be dangerous for patients with some health conditions, worsening heart problems.
The FDA was cited as having said that triclosan in antibacterial soaps is no more beneficial than using soap without this chemical.
Study co-author Bruce Hammock said that the research results suggest that it's a good idea to cut back on the use of products containing triclosan.
The research team said that their findings indicate that the amount of triclosan we are regularly exposed to show that some of our muscle cells have a reduced ability to contract.
They recommended that the Environmental Protection Agency, the Food and Drug Administration, and other regulators, revisit the safety of triclosan.
An article on Rodale.com said that triclosan may disrupt function of the immune system in that it's killing off germs that would normally be building your child's immunity.
These children may be more prone to developing allergies to things like pet dander, pollen or food proteins because of this lack of exposure.
Jessica Savage, M.D., an allergy and immunology fellow at Johns Hopkins said that chemicals like triclosan could upset the bacterial balance between good and bad bacteria in the body.
This may result in dysregulation of the immune system, increasing the odds of developing allergies.
Environmental Working Group said that triclosan is found in some surprising places. You may expect to find it in dishwashing detergent and liquid hand soap.
You may not be too surprised to learn that it is also in deodorant, facewash, toothbrushes and toothpaste. The fact that it can also be found in shoe insoles and mattresses may help to bring home the fact that triclosan seems to be everywhere.
The American Medical Association has recommended that people not use triclosan because it may contribute to the growing problem of bacterial resistance to antibiotics.
According to EWG, triclosan may affect the liver and thyroid, and play a role in inhalation toxicity. Because triclosan is not completely eliminated by treatment of waste water, it's in our water supply, and poisoning aquatic life in rivers and lakes.
EWG recommended that Americans avoid antibacterial products wherever possible.
When you read the words "odor-fighting", "fights germs", "keeps food fresher, longer" or "protection against mold" these may be indications of the presence of triclosan.
Feeling vulnerable to germs? Instead of relying on antibacterial products, EWG suggested that you do things the old-fashioned way.
Be sure to wash your hands often with plain soap. Wash your children's hands and their toys on a regular basis.
Wash items that have been in contact with food like counters and cutting boards with warm water and detergent that is not touted as antibacterial.
Sources:
Triclosan, A Chemical Used in Antibacterial Soaps, is Found to Impair Muscle Function
http://blogs.smithsonianmag.com/science/2012/08/triclosan-a-chemical-use...?
Is triclosan dangerous? Yes, study finds -- in mice, fish. LATimes.com. Retrieved Sept. 16, 2012.
http://articles.latimes.com/2012/aug/13/news/la-heb-triclosan-antibacter...
The 3 Worst Products in Your Bathroom. Rodale.com. Retrieved Sept. 16, 2012.
http://www.rodale.com/antibacterial-soap-allergies
Pesticide in Soap, Toothpaste and Breast Milk - Is It Kid-Safe?: EWG's Guide to Triclosan. EWG.org. Retrieved Sept. 16, 2012.
http://www.ewg.org/triclosanguide
Visit Jody's website and blog at http://www.ncubator.ca and http://ncubator.ca/blogger
Reviewed September 17, 2012
by Michele Blacksberg RN