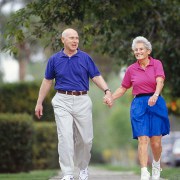 Photo: Getty Images
The Mayo Clinic reports that walking can lower "bad" cholesterol, raise "good" cholesterol, lower blood pressure, reduce your risk of or manage type 2 diabetes and can positively affect your health in a plethora of other ways. So while few can argue that walking is beneficial to your health, researchers from the University of Colorado found that one's walking speed could mean the difference in successful surgery recovery in the elderly.
In a presentation Wednesday at the 2011 Annual Clinical Congress of the American College of Surgeons, the Colorado team unveiled that "older people who walk more slowly than their peers may be at greater risk for complications and disability following surgery," according to a release on the study.
The speed at which elderly people walk is affected by their frailty -- a condition marked by muscle loss, fatigue and lack of physical resiliency. The more frail the person, the slower he or she will walk. And while frailty exists across the age spectrum, it's most commonly found in the elderly.
Which leads physicians to consider frailty and walking speed when performing surgery on an elder person.
"This approach may lead to a more individualized way of deciding who should undergo surgery. We are designing tests to get away from chronologic age, and instead are now focusing on physiologic age," said study co-author Dr. Thomas Robinson, an associate professor of surgery, in a American College of Surgeons (ACS) news release.
The stress of an operation may lead to serious complications in frail individuals, but "could be avoided by assessing walking speed in a simple test before surgery," according to the researchers.
"Researchers followed 195 patients aged 65 and older having heart or colorectal surgery. Before surgery, the researchers gave the patients a short timed walking test. After completing the test, the patients were classified as fast (10 seconds or fewer), intermediate (between 11 and 14 seconds) or slow (15 seconds or more)," according to the release on the study.
The results showed that "73 percent of the 'slow' walkers who had heart surgery were afterward sent to an institutional care facility, compared with 17 percent of the 'fast' walkers."
Furthermore, the study found that 60 percent of slow walkers who had a colorectal operation also needed institutional care after surgery, compared with just 5 percent of the fast group.
And since more than half of all surgeries in the United States are performed on the elderly, doctors need to adjust their approach.
"The bottom line is that we can no longer assess 80-year-olds in the same way as 25-year-olds," said study co-author Dr. Daniel Wu, chief surgical resident at Denver Veterans Affairs Medical Center.
So while any type of walking is good for your health, the next time you go for a stroll around the block, consider revving up your speed and consulting a physician to get a better sense of your physiological age, not your chronological age.
Sources:
Slower Walking Speed Linked to Surgical Risks in Elderly. HealthDay. Web. 27 Oct. 2011.
http://consumer.healthday.com/Article.asp?AID=658003
Exercise and frailty in older adults. NCPAD. Web. 27 Oct. 2011. http://www.ncpad.org/yourwrites/fact_sheet.php?sheet=891
Walking: Trim Your Waistline, Improve Your Health. MayoClinic. Web. 27 Oct. 2011.
http://www.mayoclinic.com/health/walking/HQ01612
Bailey Mosier is a freelance journalist living in Orlando, Florida. She received a Masters of Journalism from Arizona State University, played D-I golf, has been editor of a Scottsdale-based golf magazine and currently contributes to GolfChannel.com. She aims to live an active, healthy lifestyle full of sunshine and smiles.
Reviewed October 27, 2011
by Michele Blacksberg RN
Edited by Jody Smith