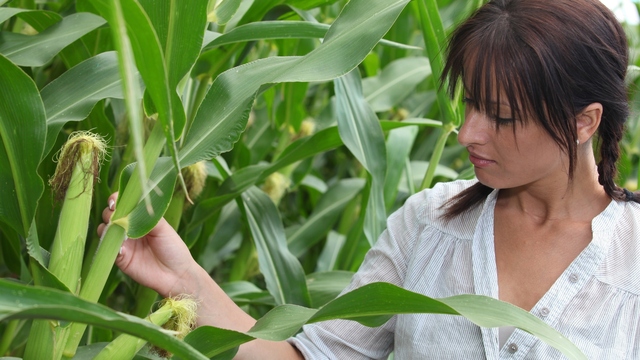 Auremar/PhotoSpin
I spend so much time trying to eat healthy and teach others to do the same. I get tons of questions about organic foods, but almost none about GMO.
I thought it would be a good idea to share with you what GMO means, and why you should pay attention the controversy about GMO foods if you care about eating healthy.
The acronym GMO stands for genetically modified organism. It refers to any living organism whose genetic material (DNA) has been changed in a laboratory environment.
What does this have to do with your food? For the last few decades commercial companies have be changing the genes in certain food to improve the availability of crops to consumers.
GMO plants have been modified by using a combination of plant genes, animal genes bacteria genes or virus genes. These combinations do not occur naturally instead they have been modified in laboratory environments.
The crossbreeding of plants, animals, bacteria or virus genes to create different plants is a new science that doesn't create stable combinations in foods or in nature. These new plant forms and how they will affect the environment, animals and us as humans, are creating controversy around the world.
Because of the controversy the several countries like China, Australia and European Union require labels on GMO foods. Currently the United States does not require labeling of its GMO products.
Some of the most common examples of GMO foods are corn, tomatoes, beets, potatoes, squash, rice, soybeans, canola oil and salmon.
Some of the modified foods are not on the market for public consumption, however they are in some stage of testing or approval phase with government agencies.
Due to this new technology involved in our food supply there are pros and cons for continuing to have GMO-based foods.
Proponents of using GMO foods believe:
• GMO-based food will create higher yields of food to feed more people
• GMO plants can resist pests so do not require as many chemicals for growth
• GMO plants can be grown with more nutrients to be more nutrient dense
Opponents of using GMO foods believe:
• GMO foods could produce super weeds
• The mixing of different types of proteins in food create health hazards and allergic reactions for people eating the foods
• That there is good reason to fear what adding new genes to food will do long-term
Since the United States doesn't currently label our GMO food we have to depend on the EPA, USDA and FDA regulations to keep our food safe.
The U.S. Environmental Protection Agency looks at the effects of the GMO plants on the environment.
The U.S. Department of Agriculture's looks at whether the plant will harm other plants or animals or is it safe to grow. The Food and Drug administration looks at whether the plant is safe for people to eat; they don't want foods making people sick.
If you have concerns about GMOs in your food supply contact organizations like the Non-GMO project to find out more about getting GMO foods labeled.
I believe that everyone has the right know what is in the foods they are eating.
Live Vibrantly,
Dr. Dae
Dr. Daemon Jones
Dr. Dae's website: www.HealthyDaes.org
Dr. Dae's Bio:
Dr. Daemon Jones is your diabetes reversal, hormones, metabolism and weight loss expert. Dr. Dae naturopathic doctor who treats patients all over the country using Skype and phone visits, visit her or schedule a free consultation at her website, www.HealthyDaes.org
Sources:
What you need to know about GMOs? USA today. Retrieved January 15, 2015, from
http://www.usatoday.com/story/news/nation-now/2014/01/03/gmo-genetically...
Feature, A. (n.d.). The Truth About GMOs: Are They Safe? What Do We Know? Retrieved January 15, 2015, from
http://www.webmd.com/food-recipes/features/truth-about-gmos
GMO Facts. (n.d.). Retrieved January 15, 2015, from
http://www.nongmoproject.org/learn-more
Top 10 Genetically Modified Food Products. (2010, September 14). Retrieved January 15, 2015, from
http://www.discovery.com/tv-shows/curiosity/topics/1
Reviewed January 16, 2015
by Michele Blacksberg RN
Edited by Jody Smith