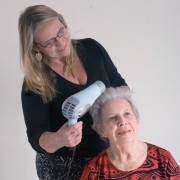 Photo: Getty Images
As more and more people with medical issues look to live out more of their years independently, and who may need some help managing day-to-day living, assisted living programs provide a much-needed type of help.
These types of programs are necessary to deal with the increased demand and needed for care for seniors. According to the U.S. Bureau of Census, the population of people 85 and older grew by 33.2 percent between 2000 and 2010. Similar census numbers show that 6.5 million people need help with "daily living activities . . . that number is expected to double by 2020" (Wisconsin Assisted Living).
So what exactly is assisted living?
Definition
Assisted living combines independent living with personal care. It is a "long-term care option that combines housing, support services and health care as needed. Assisted living is designed for individuals who require assistance with everyday activities such as meals, medication management or assistance, bathing, dressing and transportation" (Assisted Living Federation of America).
ALFA further defines assisted living communities or residences as "non-medical residential settings that provide or coordinate personal and health care services, 24-hour supervision, and assistance for the care of adults who are aged, infirm or disabled."
The advantage to assisted living facilities is that individuals can still enjoy their dignity and freedom of an independent lifestyle, with however much help they need to meet their individual needs. It provides the further advantage of being more cost-effective than a full nursing home or home health care services (depending on the amount of care required).
Who is Assisted Living For
Assisted living helps residents with:
• Dressing
• Bathing
• Remembering to take medication
• Eating or Cooking
• Hygiene
• Transportation
• Walking
• Laundry
And other activities and needs.
Sources: Wisconsin Assisted Living Association (http://www.ewala.org/forconsumers/whatisassistedliving.cfm); Assisted Living Federation of America (http://community.alfa.org/ALFA/ALFA/Resources/Glossary/AlphabeticalTab/Default.aspx); Medline Plus (A service of the U.S. Library of Medicine and National Institutes of Health) (http://www.nlm.nih.gov/medlineplus/assistedliving.html)
Edited by Shannon Koehle