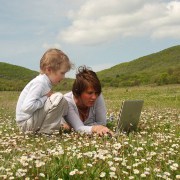 Photo: Getty Images
Your mom fed you your first meal. From then on, she was 100 percent focused on feeding you the right foods and being an advocate for your health and well-being.
So it makes sense that more and more moms are blogging about food.
Many mom food bloggers focus not only on nutrition for their families, but they post recipes, meal plans and other amazing tips so that moms around the world can feed their children nutritious meals.
Alexandra Zissu won the number one spot for healthiest eating on Babble.com's first annual Top 50 Best Food-Blogging Moms. The New York City mom answers questions from her readers who are working to create a "Conscious Kitchen." In her book with the same title, she asks readers to consider three basic questions before putting food on the table.
"What's good for your personal health? What's good for the planet? What tastes great?," she writes.
Her recent blog posts cover everything from whether microwaved foods are safe to how to dress up eggs with hen of the woods mushrooms.
At The Lunch Tray blog, Bettina Elias Siegel writes about school food reform. The blog began as a journal to track her initiatives to get healthier food into schools in Houston, Texas, but it now covers everything about "kids and food, in school and out."
Her approach to food is to keep it healthy and enjoy the food you eat.
"I am not a Food Nazi, the Food Police, or any other meddlesome individual out to scold other people for eating fat and sugar," Siegel wrote. "In fact, I relish good food to an inappropriate extreme. I want our children to share our love of food and to understand that you can indulge in treats and explore food freely—against the baseline of a healthy daily diet and a bit of exercise."
The Whole Life Nutrition Kitchen is actually a mom and dad blogging team, Alissa Segersten and Tom Malterre, who are both nutrition graduates from the Pacific Northwest's Bastyr University. On the blog, Segersten says she loves to help readers reconnect with the pleasure in eating delicious, nourishing food.
This parenting duo posts about one new recipe a week and their blog includes tons of information on elimination diets and allergy-free cooking and baking. Some of the latest recipes are for a healing nettle chicken stock and stevia-sweetened sugar cookies that are gluten free and vegan.
The Whole Life Nutrition Kitchen
Suzanne Boothby is a Brooklyn-based wellness writer, certified health coach and co-founder of New York Family Wellness. Visit www.suzanneboothby.com to learn more.