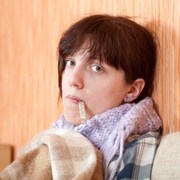 iStockphoto/Thinkstock
There is never a good time to be sick, especially when you are a parent.
But the pressure really begins to build when you have just spent more that a week nursing your kids back to good health and you are less than a week away from a family vacation.
As I carefully laid out a week's worth of clothes for four people, I kept an eye on my second child that got sick and tried to keep the other two quiet and out of his way.
The kids had already been forced to stay indoors for a week when my first son caught the flu.
It was a week of fever, fatigue and creative ideas to keep the two healthy kids from becoming bored and wild inside the house.
I was relieved when my son started feeling better. Relieved, that is, until another child began to burn up with a fever.
And there was more bad news.
One day after my second child came down with the coughing flu, it hit me. For four days, my skin burned and my muscles ached.
It was all that I could do to take care of the my youngest son, make sure the other two stayed fed, and shuffle around the house with a blanket wrapped around my shoulders, trying to ease the chills running through my body.
I moved very little those next five days and ate nothing.
The boys were forced to be independent. They watched a lot of television and played the Wii for hours.
As I shivered under the covers in my bed, my head pounded, my body ached, and my teeth chattered.
I could hear the boys laughing and playing in the next room and I wanted to cry. I did not know how easy I had it when I was sick before I had kids.
Since we were scheduled to be on vacation, my husband was swamped at work. There would be no days that he could take off.
When he would get home in the evening, I could finally retreat to my bedroom. The responsibility of packing was also falling on his shoulders.
The beach house we had booked was non-refundable. I prayed that I would feel well enough to go so we didn't waste all the money on the trip that I had so carefully planned.
The night before we were scheduled to leave, my fever spiked to 102.4.
I couldn't sleep. I was miserable.
After finally drifting off to sleep sometime in the early morning, I woke up with pajamas that were stuck to my skin and wet hair. I was weak from not eating for nearly five days but my fever had broken.
Since it was Saturday, the first official day of our vacation, I spent the entire day in bed. I heard my husband explaining to the kids that I was still sick and we couldn't leave for the beach.
The sounds of their groans and disappointment carried through my closed door. I tried to cover my head and drown out their voices. I was disappointed too.
The next day I walked with shaky legs, attempted to get ready and tried to pack what I could in the car. My health was no worse, so we decided that we would set out for our eight-hour car ride.
It was not a good decision. All that I could do was lay in the passenger seat, my cough thick and painful, and my ears filling with fluid.
Driving through the mountains made the pressure in my ears almost unbearable. I still had no appetite.
I felt like I was melting into the seat. Put me out of my misery.
When we finally arrived that evening, I went straight to bed. My coughing prevented me from getting the rest that my body needed and by the next day, I was in a different state, and on my way to the CVS Minute Clinic.
I started with the flu. It was that nasty coughing flu that grabs you and hangs on until you think you will never get better.
My kids had it too but unlike me, they were able to rest and get better. My flu turned into a bacterial infection and a double-ear infection.
I left the Minute Clinic with three prescriptions and a bag filled with over-the-counter remedies.
My kids begged to go to the beach. I could barely lift my head off the pillow. This was already the worst vacation.
That was what I thought until the next day when my husband woke up with a fever. The flu was not done with our family yet.
Edited by Jody Smith