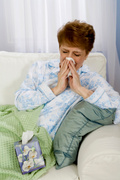 Many of my patients ask me this time of year "Should I get the flu vaccine?" When asked this question, I typically assess them for the risk (according to the guidelines produced by the Centers for Disease Control), and then begin identifying how effective their immune system is. Questions like: "How good is your immune system? Do you get sick often? Do you take supplements to boost your immune system? Do you manage your stress, eat well and sleep at least seven hours nightly? Do you take Vitamin D?" If they do not answer these questions in a way that makes me feel that they have a good "back-up plan" with their immunity, and/or they are at risk, then I typically recommend the flu vaccine. So here is some information on the flu vaccine that you might want to know for this upcoming season.
The flu season is from November to April, with most cases occurring between late December and early March, but the vaccine is usually offered between September and mid-November (and may be given at other times of the year).
Getting the shot before the flu season is in full force- gives the body a chance to build up immunity to, or protection from, the virus. Although you can get a flu shot well into flu season, it's best to try to get it earlier rather than later. However, even when there are only two or three months left in the flu season, it's still a good idea to get protection if the vaccine is available in your area.
Who Should Get the Flu Shot?
Federal health officials now urge flu vaccination for:
--all kids 6 months of age and older
--those who have chronic lung or heart disorders, or chronic disease like diabetes
--residents of nursing homes
--health care workers, including caregivers and those in contact with high risk groups
--police, firefighters, and other public safety workers
--those planning to travel to the tropics at any time or to the Southern Hemisphere from April through September who did not receive a flu vaccine the previous year
--everyone 50 years of age or older
If you want to get the flu shot and aren't in the high-risk groups listed above, talk to your doctor about vaccine availability.
Just remember--taking care of yourself is the best thing you can do to boost your immune system.
Nisha Jackson PhD, MS, WHCNP, HHP
www.justasknish.com
Nisha Jackson is one of the nation's leading bio-identical hormone & wellness experts. She is the host of the nationally syndicated radio program "Just Ask Nish', columnist, lecturer, and continues to be in high demand in her Southern Oregon-based specialty practices. With no hidden agendas Nish, as she is known by her radio audience, is relentless to uncover health solutions that work. If it's effective and good for you, it's good medicine.