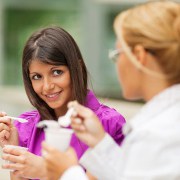 Photo: Getty Images
Adding yogurt to their diet had the largest effect of any food for preventing weight gain in a study of 120,877 women and men in the United States, conducted by Dr. Dariush Mozaffarian and colleagues at Harvard Medical School and Harvard School of Public Health, Boston, Massachusetts. The results are published in the June 23, 2011, issue of the New England Journal of Medicine.
Mozaffarian and coauthors analyzed data on healthy adults who were not obese at baseline selected from three studies: (1) the Nurses' Health Study, with 50,422 women, average age 52.2 years, (2) the Nurses' Health Study II, with 47,898 women, average age 37.5 years, (3) the Health Professionals Follow-up Study, with 22,557 men, average age 50.8 years. The participants gained almost one pound per year.
The researchers studied changes in lifestyle factors and how these were associated with changes in weight. They found that increases in consumption of potatoes, sugar-sweetened beverages, processed meats, unprocessed red meats, trans fats, sweets or desserts, and refined grains were associated with weight gain.
Increased consumption of yogurt, fruits, nuts, vegetables, and whole grains were associated with weight loss, relative to the group average. The authors speculated that high-fiber foods make it easier to stay on a healthy diet: "consumption of starches and refined grains may be less satiating, increasing subsequent hunger signals and total caloric intake, as compared with equivalent numbers of calories obtained from less processed, higher-fiber foods that also contain healthy fats and protein."
Yogurt was a special case since it has no fiber. Other dairy food had little effect on weight changes. Mozaffarian offered two possible explanations for the correlation between increased yogurt consumption and weight loss or prevention of weight gain: (1) yogurt contains probiotic bacteria that may contribute to the maintenance of healthy weight, and (2) people who choose to eat more yogurt may be changing other behaviors that were not measured in the study.
The authors found the effects of dietary changes to be independent of the effects of changes in exercise, sleep, television viewing, smoking, and alcohol consumption.
Science News reporter Nathan Seppa reported on the Harvard study and added a comment from Christopher Gardner, a nutrition scientist at Stanford University. Adding yogurt and high-fiber foods to the diet may be beneficial, Gardner noted, because they were associated with weight loss (or reduced weight gain) in conditions of ordinary life. He summarized, "these are achievable differences because real, live people did them."
References:
1. Mozaffarian D et al, "Changes in diet and lifestyle and long-term weight gain in women and men", New England Journal of Medicine 2011 June 23; 364(25): 2382. http://www.ncbi.nlm.nih.gov/pubmed/21696306
2. Science News article, July 30, 2011:
http://www.sciencenews.org/view/generic/id/331770/title/Food_choices_matter_in_weight_control__
Reviewed August 1, 2011
by Michele Blackberg R.N.
Edited by Shannon Koehle
Linda Fugate is a scientist and writer in Austin, Texas. She has a Ph.D. in Physics and an M.S. in Macromolecular Science and Engineering. Her background includes academic and industrial research in materials science. She currently writes song lyrics and health articles.