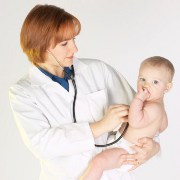 Photo: Getty Images
Many of us call to make an unscheduled appointment to our doctor's offices or clinics when not feeling well in between annual or pre-scheduled visits, only to find that no doctor is available -- only a nurse.
However, these nurses are generally nurse practitioners with a high level of education and experience. And nowadays, some can legitimately refer to themselves with a different title once reserved for their superiors, once they have finished their post-graduate training in nursing. We should not be surprised when we land in our nurse's office and refer to her as "Dr."
The more education and experience a health care professional has, the more we, as patients, benefit. But medical doctors -- MDs -- are not particularly happy with this new title being applied to nurses, even if they have earned that title.
It confuses patients, they say, and isn't quite as clear cut as it sounds. Doctors say it can cause a power struggle at work, and is also affecting rank and pay statuses.
They also say that nurses are not as specialized as medical doctors and have nowhere close to the same level of experience, education and specialized study. Indeed, while highly educated health care providers have as many as seven to eight years of formal education, it remains about half that of many medical doctors.
Many doctors have stated that it's only a matter of time before nurses with doctorates want higher prescribing powers, and better money and status -- perhaps that rivaling their former bosses. Nurses claim that is not the reason for the push toward doctorate degrees, rather it's better for nurses and their patients to have highly educated health care providers.
There are other health care providers interested in following suit, from physical therapists to pharmacists. The role of the MD being the primary health care provider of a patient is often no longer the case. After an initial visit and diagnosis, the doctor often fades into the background, as other specialists take over the patient's care.
Insurance companies currently pay a fairly standard rate to nurses but doctors worry that pay may equalize somewhat, once a certain amount of nurses hold doctorate degrees. This may decrease the gap in salary -- something medical doctors deem unfair and could cause budgetary concerns.
According to a New York Times article, medical doctors want to make sure that using the title of Doctor has a legal definition and is restricted. A law to do so in New York is currently under review and is already in use in several states including Arizona and Delaware.
While nurses, therapists and other secondary health care providers may use their title, they must also identify their actual professions.
Tell Us
If a nurse introduces herself as "Dr...", do you think he/she should immediately clarify that she is a nurse? Should that be the case with all health care professionals who are not medical doctors?
Source:
The New York Times. When the Nurse Wants to Be Called 'Doctor'. Web. Oct 01, 2001. http://www.nytimes.com/2011/10/02/health/policy/02docs.html?pagewanted=1&_r=1&ref=health
Edited by Jody Smith