BOTOX® Approved by FDA for Overactive Bladder Patients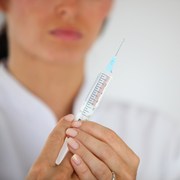 Auremar/PhotoSpin
After 12 weeks, patients who received BOTOX® experienced an average of 1.6 to 1.9 times less urinary incontinence per day and needed to urinate 1.0 to 1.7 times less often throughout the day. Their output of urine was 30 mL on average more than the placebo group.
Treatments should be at least 12 weeks apart.
There were side effects to the treatments, such as urinary retention, incomplete emptying of the bladder, pain upon urination and urinary tract infections.
Urinary retention, or incomplete emptying of the bladder, may require catheterization to resolve.
Patients with a UTI should not receive BOTOX® treatment.
Such patients need to be treated with antibiotics before BOTOX® treatment, during treatment and afterwards for a few days. This will reduce the risk of infection from BOTOX® treatment.
Sources:
Allergan: BOTOX® (onabotulinumtoxinA) Receives U.S. FDA Approval for the Treatment of Urinary Incontinence. Allergan.com. Retrieved Jan. 19, 2013.
http://agn.client.shareholder.com/releasedetail.cfm?ReleaseID=600958
FDA News Release. FDA.gov. Retrieved Jan. 19, 2013.
http://www.fda.gov/NewsEvents/Newsroom/PressAnnouncements/ucm336101.htm
Botox Approved to Treat Overactive Bladder. Medscape.com. Retrieved Jan. 19, 2013.
http://www.medscape.com/viewarticle/777886
Reviewed January 21, 2013
by Michele Blacksberg RN