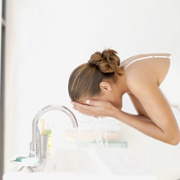 Photo: Getty Images
Acne is a skin condition that can lead to red bumps, pimples or zits, and cysts under the skin. Severe acne can lead to scarring which can be permanent. If you have acne, knowing the difference between real acne triggers and myths about acne can help you keep breakouts under control.
Acne Myths:
• Food – One of the most common misconceptions about acne is that eating the wrong food can make your acne worse. In reality, there is no proven link between what goes in your stomach and what shows up on your face.

Hygiene
– Having acne does not mean your skin is not clean. Acne is caused by oil, dead skin cells, and bacteria that become trapped under the surface of your skin. If you have acne, cleaning your skin too much can actually make your symptoms worse.
•
Contact
- Acne is not contagious, which means you cannot get acne by touching someone who has it.
•
Sex
–Acne often develops around puberty, which is a time when the body is developing sexually. But having sex does not cause acne.
Triggers:
• Hormones – Levels of these chemical messengers can vary at different times of life, which can trigger acne. Boys and girls have a significant increase in hormones associated with sexual reproduction during puberty which often triggers the onset of acne. Women continue to have monthly fluctuations in hormone levels as part of their monthly cycle. Acne flare-ups for women may be more likely 2 to 7 days prior to the start of their periods.
• Oil – Oil from glands in the skin can contribute to acne. But oil from other sources, including makeup, moisturizers, and work environments such as a greasy kitchen can also deposit oil on the skin and can make acne worse.
• Pressure – Things that irritate the skin by rubbing or being too tight can make acne worse. Possible offenders include sports helmet straps, backpacks, and shirt collars.
• Popping – Picking, squeezing, or popping acne pimples can make them last longer and may push bacteria from the skin deeper under the surface. Popping pimples can also cause scarring that may never go away.
• Cleansing – Keeping skin clean is a good thing, but scrubbing the skin or using products that are too harsh can irritate the skin and make acne worse.
Mild acne can often be treated using over-the-counter remedies. If your acne is severe with numerous pimples and red discoloration on the skin, talk to your healthcare provider to find out the best way to treat your acne symptoms.
Sources:
About.com: Acne
National Institutes of Health: News in Health
WomensHealth.gov
Reviewed July 26, 2011
by Michele Blacksberg R.N.
Edited by Shannon Koehle
Tags: