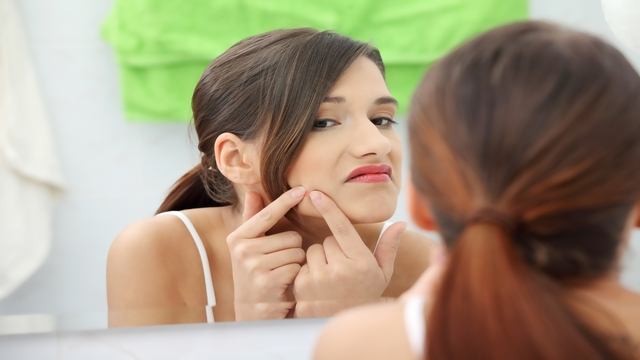 B-D-S/PhotoSpin
What is acne?
Acne is a skin condition that commonly affects teenagers, but can also affect women of any age. Acne is caused by hair follicles becoming clogged with oil and dead skin cells.
Sebaceous glands at the base of the hair follicles produce oil (sebum) to lubricate your hair and skin. When the glands produce too much sebum and the excess oil meets dead skin cells, the hair follicle becomes plugged.
You now have the perfect breeding ground for bacteria. When blocked hair follicles become inflamed or infected a pimple forms. If the blockage and inflammation happens beneath the surface of the skin, cysts can develop under the skin.
This overproduction of sebum can be the result of hormonal changes. Hormones called androgens increase during puberty and cause the sebaceous glands to enlarge and produce more sebum.
Corticosteroids, lithium and other medications may cause acne, and for some foods rich in dairy products and carbohydrates may be triggers.
It is a myth that greasy foods and chocolate and dirty skin are somehow connected to acne.
What will treat acne successfully?
Over-the-counter (OTC) medicated creams, soaps, lotions, and gels usually contain benzoyl peroxide, alpha hydroxy acid, salicylic acid, azelaic acid, zinc or tea tree oil. Make sure you follow the directions on the package.
Avoid scrubbing with abrasive scrubs or cleansers as this can damage or irritate skin more and add to the inflammation you're already battling.
If your teenager's acne doesn't respond to OTC products, then it's time to see a doctor who can help you find the right course of treatment.
The American Academy of Dermatology warns about the use of all-natural acne supplements for the treatment of acne that are on the market, since the ingredients of these products are not monitored, and the side effects and effectiveness of these treatments haven't been verified by studies and research.
"For example, the group cites an over-the-counter (OTC) acne supplement that contained more than 200 times the amount of selenium stated on the label." (2) So be sure to discuss any of these products with your doctor before using them.
Most of all, whichever product you choose, it's important to follow the instructions on the label to ensure that the product does what it's supposed to do.
How can acne be prevented?
To keep this skin condition from flaring up or spreading:
• Gently wash your face and other affected areas once or twice a day.
• Do not squeeze the pimples as that can lead to infections, may actually worsen the acne, and lead to scars.
• Use water-based skin care products which clean your skin gently. Avoid "milky cleansers, cold creams, lipsticks, and lip glosses that contain oils." (3)
• Avoid heavy foundation makeup. Powder foundations are less irritating than creams.
• Remove all makeup before going to bed, "throw out old makeup and clean your cosmetic brushes and applicators regularly with soapy water." (1)
Source:
1) Acne. Mayo Clinic. Web. Sept 23, 2013.
http://www.mayoclinic.com/health/acne/DS00169
2) Alternative Treatments for Acne. WebMD. Web. Sept 23, 2013.
http://www.webmd.com/skin-problems-and-treatments/acne/acne-alternative-treatments
3) Acne – Home Treatment. WebMD. Web. Sept 23, 2013.
http://www.webmd.com/skin-problems-and-treatments/acne/acne-vulgaris-home-treatment
Reviewed September 23, 2013
by Michele Blacksberg RN
Edited by Jody Smith