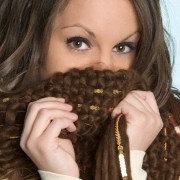 Photo: Getty Images
Acne is a common skin condition that causes pimples or zits on the skin. Doctors don't know exactly what causes acne. In general, pimples develop when pores in the skin become clogged by dead skin cells and oil from glands under the surface of the skin. Once pores become blocked, bacteria from the skin can cause inflammation that can result in pimples which are also known as lesions. Closed pimples are often referred to as whiteheads due to the collection of cells under the skin. Pimples that are open are called blackheads because the collection of oily cells in the pimple turns black at the top when it is exposed to the air.
Common acne, which is known as acne vulgaris, can be mild, resulting in a few isolated pimples or red bumps. This type of acne can often be treated using over-the-counter remedies. More severe acne can cause painful lumps and bumps deep under the skin that can rupture and cause permanent scarring. There are four basic types of severe acne:
• Nodulocystic acne – This condition, which can also be known as cystic acne or nodular acne, is the most severe version of common acne. In addition to pimples, this type of acne can create cysts which are soft lumps filled with fluid that are located under the surface of the skin. These cysts can be larger than an inch across and may occur individually or in clusters. Cystic acne is most common in teenage boys and young men. Some people with this type of acne also develop nodules which are hard lumps located deep under the skin.
Both nodules and cysts can be very painful. Because both nodules and cysts cause damage to healthy tissue under the surface of the skin, they are very likely to cause significant scarring. This type of acne requires prescription strength medications and must be treated by a qualified healthcare professional or dermatologist. Some cysts may need to be drained or surgically removed.
• Acne conglobata – This type of severe acne can lead to inflammation that can cause hard nodules to form under the skin. These nodules can spread and connect to other nodules, and may break down surrounding tissue and create ulcers and pockets of pus. This can lead to deep, irregular scarring. Acne conglobata is more common in men than women and is most common between the ages of 18 and 30. But even after acne has been dormant for years, this type of acne may suddenly appear.
• Acne fulminans – This acne is characterized by rapid onset and serious inflammation. It often causes ulcers in the skin as well as fever and inflammation in the joints, especially the knees and hips. This type of acne does not respond well to antibiotics, which may be the result of failed treatments for acne conglobata. It typically responds to corticosteroids or other prescription medications designed to reduce inflammation, but may come back even after treatment.
• Gram-negative folliculitis – This condition is the result of inflammation in the hair follicules which are part of each pore in the skin. Gram-negative folliculitis is a bacterial infection that may be the result of antibiotic resistance that develops following long-term use of antibiotics to treat other types of acne. It requires treatment with specific antibiotics and other prescription medications.
Acne can be rated from mild to severe based on the number and size of pimples and other skin disruptions. Severe acne includes redness and inflammation in addition to a larger number of pimples. Severe acne requires specialized treatment by a dermatologist with prescription strength medications. Talk to your healthcare provider if you have any concerns about acne. Early intervention to control the spread and growth of acne symptoms can help limit scarring and prevent basic acne from progressing to more severe forms.
Sources:
American Academy of Dermatology
About.com: Acne
National Institute of Arthritis and Musculoskeletal and Skin Diseases
MedScape
Acne.org
Reviewed July 21, 2011
by Michele Blacksberg R.N.