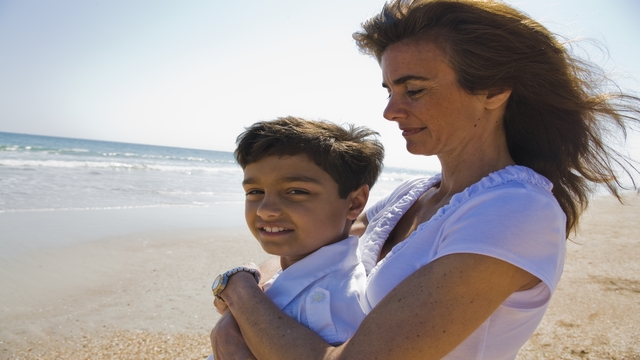 Margaret Way Productions/PhotoSpin
The news that a child has leukemia must stand out as one of the most frightening things both a child and parent can ever hear.
Visions of ill children suffering alone in hospital beds, away from parents, siblings and friends are mustered up by Mom and Dad.
And as brave as children usually are, spending time in a hospital, learning about their illness and coping with treatments, can be truly frightening.
But a recent study has shown that children with a form of cancer called acute lymphoblastic leukemia now have a 90 percent rate of five year survival, compared with 84 percent in 1990.
Five years free of leukemia is considered being free of the disease and it's highly unusual for a person to succumb to the disease after that time.
Fifty years ago, this disease was incurable, said study author Dr. Stephen Hunger of the University of Colorado School of Medicine.
Leukemia is the most common form of childhood cancers and acute lymphoblastic leukemia is the most common form of leukemia, with about 3,000 cases every year. The cause for this cancer for this cancer is not know as yet.
More than 21,000 people between the ages of infancy and 22 were included in this study, with all groups seeing an increase in survival rates aside from infants who succumbed to side effects and infections.
"The future for children with leukemia continues to brighten," Hunger said.
"It's fantastic that now 90 percent of patients can expect to be cured." However, if your child is part of the 10 percent that isn't cured, it is small consolation.
If a parent is nervous about their child's health and suspect leukemia may be a possibility, here are some risk factors, signs and symptoms to look for, according to EmpowHER's page on acute lymphoblastic leukemia:
"Having a brother or sister with leukemia
"Race: white or Hispanic
"Living in the United States
"Exposure to x-rays before birth
"Exposure to radiation
"Previous chemotherapy or other treatment that weakens the immune system
"Certain genetic disorders (see above)
"Symptoms
"These may be caused by other, less serious health conditions. You should see a doctor if you or your child is experiencing:
"Weakness
"Tiredness
"Fever
"Paleness (a sign of anemia )
"Easy bruising or bleeding
"Petechiae (flat, pinpoint spots under the skin caused by bleeding)
"Shortness of breath
"Weight loss
"Loss of appetite
"Bone or joint pain
"Stomach pain
"Pain or a feeling of fullness below the ribs
"Painless lumps in the neck, underarms, stomach, or groin
"Swelling of the liver and/or spleen"
Efforts now need to focus on that 10 percent, Hunger said, adding: "The goal is to cure everyone."
SOURCES:
Childhood Leukemia Survival Rates Reach 90 Percent. Yahoo News Health. Web. Monday March 12, 2012.
http://news.yahoo.com/childhood-leukemia-survival-rates-reach-90-percent...
EmpowHER.com. Acute Lymphoblastic Leukemia. Web. Monday March 12, 2012. https://www.empowher.com/media/reference/acute-lymphoblastic-leukemia
Reviewed March 13, 2012
by Michele Blacksberg RN
Edited by Jody Smith