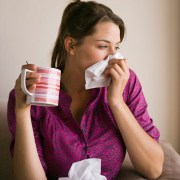 Photo: Getty Images
Many people live with HIV long before they realize they have it. Ten years can go by before any symptoms at all surface, and, if they do, it's easy to mistake them for the flu.
Things like sweats, chills, fever, weight loss, loss of appetite and weakness can indicate the infection is present but it's difficult to tell in the beginning.
There is what's known as a "window" period from the beginning of the production of antibodies (around three weeks post-infection) to about four to six weeks post-infection when the virus is positive during testing.
The window period is the period during which it is dangerous to not know you have HIV, as you can spread the disease, yet you will not test positive for the disease and many of the rapid tests are not accurate.
In certain cases, being tested more than one time may be recommended to be certain of its accuracy.
While there is no cure for AIDS, there are many laboratories and medical experts working on this issue worldwide. Treatments involve many different types of medication which are sometimes successful at prolonging life, increasing the quality of one's life, and allowing one to live with HIV instead of seeing it as a death sentence.
In fact, there are many people living comfortable, productive lives with HIV for twenty years or longer, provided they have access to adequate health care and medication.
What was once considered a recipe for an early demise is now something akin to the prospects with cancer -- there are good outcomes, remission type phases, not-so-good outcomes, and then the mysterious people who either don't respond to a certain type of drug or respond really, really well.
In African countries, young mothers and families are given doses of drugs to treat HIV and often go on to raise their children and live productive lives together. The issues there become more about accessibility, financing medication and regular dosing so that the curbing of the spread of the virus can continue successfully.
AIDS can continue its path of destruction only if we stop educating ourselves and give up hope. Otherwise, there are so many who continue battling, working tirelessly and reaching out, that there will be improvements in the treatment for those with AIDS as each day passes.
Sources:
Health23
Retrieved from the internet on September 27, 2011
What is the window period? Last updated 2003
http://www.health24.com/medical/Condition_centres/777-792-814-1765,22075.asp
AIDS at 25 Offers No Easy Answers
By Abigail Zuger, M.D.
Published June 6, 2006
New York Times
Retrieved from the internet on September 27, 2011
http://health.nytimes.com/health/guides/disease/aids/overview.html
Aimee Boyle is a regular contributor to EmpowHER
Reviewed September 28, 2011
by Michele Blacksberg RN
Edited by Jody Smith
Tags: