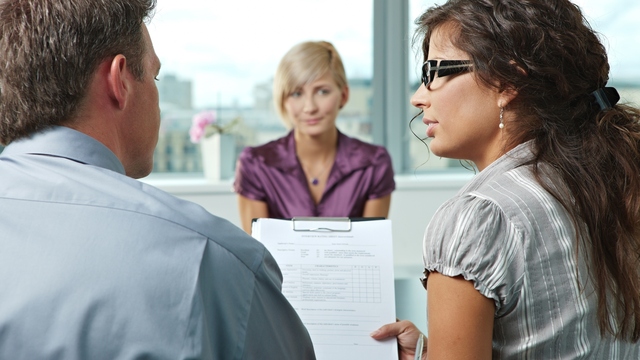 MonkeyBusiness Images/PhotoSpin
Having the right caregiver providing home care for aging seniors is paramount. The right person will greatly reduce worry about needs being met and that the senior is being kept safe.
The first decision to make is whether you want to go through an agency or hire privately.
Each route has its pros and cons.
Hiring through an agency means the person has been screened. Their salary deductions and their off-time are managed by the agency.
Hiring privately means you will be responsible for interviewing, screening, paying the person directly and arranging off-time yourself.
There are certain questions you will need to ask regardless of the route you choose. If you work with an agency, you will still want to interview the caregiver they plan to send before they start working for you.
Questions to Ask a Potential Caregiver:
1) What work experience do you have in caring for seniors who have had similar conditions?
Many medical conditions such as heart disease or diabetes require experienced caregivers. Seniors frequently have some type of cognitive decline and can get confused at night or when away from their home.
If your senior has Alzheimer's disease, you want someone who has this experience since the senior may require extra patience and skill with communication.
Those with Alzheimer's disease may not complain if they are developing a new medical problem so the caregiver has to be sharp in order to observe changes in their condition.
If you are working with an agency, tell them what qualities you feel are most important in a caregiver so they send you potential hires that meet these criteria.
2) What are your qualifications, how long have you worked and how were you trained to work in home care?
Nursing assistants are commonly the skill leve hired as home caregivers though sometimes a licensed vocational nurse (LVN) is required if there are medications to be given.
You want to know if the person speaks English well or speaks the language of the senior. Elderly people are often hard of hearing but may resist wearing hearing aids so the caregiver must communicate clearly and sometimes loudly.
Has the caregiver been trained in taking blood pressures, providing basic daily care of washing up and feeding your senior, if needed?
Agencies usually send a nursing supervisor to interview you and your senior first to determine what skills will be needed e.g., help with bathing, help with walking or turning in bed.
3) Describe a difficult situation with a senior you have cared for and how you handled it.
Observe the demeanor of the caregiver. Do they seem patient, kind but firm? Did they act with independence or go the extra step if needed?
You want caregivers that are thorough, careful and honest. The more experienced and confident the caregiver is the less direct supervision they are likely to need.
4) Do you drive?
You want a caregiver with a clean driving record. Agencies often provide auto insurance coverage if the caregiver is driving their own car for errands or doctor visits.
If a caregiver is driving the senior's car, then check with their auto insurance, as the caregiver may need to be added to the policy.
5) Do you have references?
Agencies can provide you with feedback the caregiver has had from previous clients, or you can ask to speak directly to a previous employer.
For private hires, you will want at least two references. Ask the references how they think the caregiver might respond in situations that are specific to your senior.
6) What salary are you looking for? If using an agency, will insurance, Medicare or Medicaid be accepted?
If hiring a caregiver privately, you may need to do a little research to find out the going hourly rate in your area. If working with an agency, depending on the type of care the person needs, there may be insurance, Medicare or Medicaid coverage to help pay expenses.
The agency will help you figure out whether they can provide the covered services.
Additional resources:
How to Hire In-Home Care for Your Senior
Sources:
Home care services: Questions to ask. Mayoclinc.com. Retrieved November 25, 2014.
http://www.mayoclinic.org/healthy-living/healthy-aging/in-depth/home-car...
15 Questions to Ask When Interviewing a Home Care Worker on Your Own. Caring.com. Retrieved November 25, 2014.
https://www.caring.com/checklists/home-care-interview-1
15 Questions to Ask When Interviewing a Home Healthcare Agency. Caring.com. Retrieved November 25, 2014.
https://www.caring.com/checklists/questions-for-agency-home-care-worker-1
Hiring Someone to Help With Home Care. AARP. Retrieved November 25, 2014.
http://www.aarp.org/home-family/caregiving/info-08-2012/hiring-at-home-c...
I've also drawn on my own experience hiring a home caregiver.
Michele is an R.N. freelance writer with a special interest in woman's healthcare and quality of care issues. Other articles by Michele are at http://contributor.yahoo.com/user/499625/michele_blacksberg.html
Edited by Jody Smith