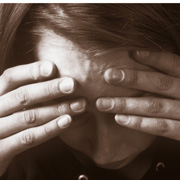 Design Pics/PhotoSpin
Adults who have certain sleep quality disturbances may be experiencing very early signs of Alzheimer's disease.
One study published on MedPageToday.com was conducted by Washington University School of Medicine in St. Louis and "studied 142 cognitively normal people, ages 45 and older, taking part in long-term studies of memory and aging."
Researchers studied the amount of time spent in bed and the actual amount of sleep people got each night for two weeks.
Researchers discovered that participants who had high levels of beta-amyloid42 in the cerebrospinal fluid were at an increased risk for amyloid depositions.
Amyloid depositions have been linked to the development of Alzheimer's disease.
According to ScienceNow, "In both humans and mice, levels of a peptide called amyloid-β rise during waking hours and decline during sleep, researchers have found. They also report that sleep-deprived mice are more prone to developing deposits of amyloid-β, called plaques, like those found in the brains of Alzheimer's patients. Although far from proven, the finding suggests that sleep disorders could be a risk factor for Alzheimer's."
While Amyloid-β is found naturally in the brain, an abundance of this molecule may lead to Alzheimer's later on in life.
In studies, sleep deprivation raised the levels of amyloid-β molecules and created more clusters of this molecule in the brain.
"Experiments at Washington University showed that nocturnal mice slept for 40 minutes during every hour of daylight. However, as soon brain plaques started to form the mice were sleeping for only 30 minutes.The findings suggest that people who are chronically sleep deprived may have higher levels of amyloid-β that make them more susceptible to Alzheimer's disease," according to a BBC News article.
Sleep patterns in Alzheimer's patients are often already affected and tend to get worse as the disease advances, so taking proper precautions is key.
In those people already diagnosed with the disease, sleep disturbances can be caused by factors such as anxiety, depression, restless leg syndrome, or even having inadequate lighting in the room.
Having an abundance of shadows in the room can create stress and fear in a person with Alzheimer's. Ensuring that the bedroom has enough light is important when trying to induce restful sleep.
If there is a family history of Alzheimer's, seeking medical advice about the disease is strongly recommended.
If you are suffering from chronic sleep issues or have a sleep disorder, it is important to consult your doctor as well. He or she might be able to help you find treatment, offer advice or prescribe medicine to help you sleep better through the night.
Sources:
"Bad Sleep May Predict Alzheimer's, Says Study." BBC News. BBC, 5 Sept. 2012. Web. 14 Mar. 2013.
http://www.bbc.co.uk/news/health-19487092
Miller, Greg. "A Connection Between Sleep and Alzheimer's?" - ScienceNOW. American Association for the Advancement of Science, 24 Sept. 2009. Web. 14 Mar. 2013.
http://news.sciencemag.org/sciencenow/2009/09/24-03.html
Smith, Michael. "Poor Sleep May Signal Onset of Alzheimer's." Poor Sleep May Signal Onset of Alzheimer's. MedPage Today, 11 Mar. 2013. Web. 14 Mar. 2013.
http://www.medpagetoday.com/Neurology/AlzheimersDisease/37823?utm_content=
Reviewed March 15, 2013
by Michele Blacksberg RN
Edited by Jody Smith