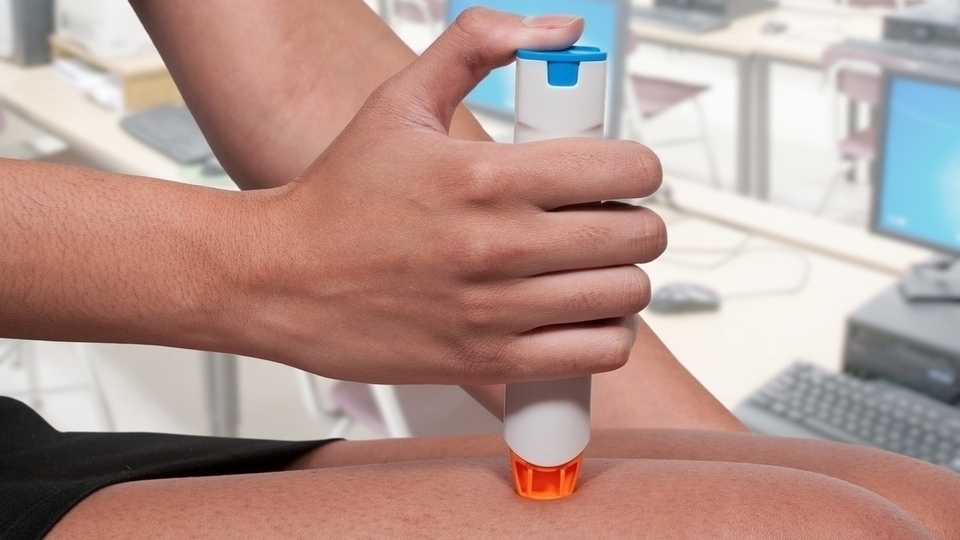 Rob Byron/Fotolia
The price of EpiPens has gone up more than 400 percent in recent years. Though the epinephren in the EpiPen only costs a couple of dollars, an EpiPen can now cost $600, according to a report from CBC News.
Mylan, the maker of EpiPens, told CBS that the EpiPen's cost "has changed over time to better reflect important product features and the value the product provides."
An EpiPen is about the size of a magic marker. It injects epinephrine, also known as adrenaline, into the thigh of someone who is subject to severe allergic reaction to prevent anaphylactic shock and possible death.
The epinephrine makes blood vessels constrict and causes airways to open. This can make all the difference for the person experiencing an extreme allergic reaction such as anaphylaxis.
There are 3.6 million Americans who are prone to severe allergic reactions, according to Quartz. They make about 20,000 ER visits in the United States every year. For these people having access to an EpiPen can be essential for life and health.
Iowa Senator and Chairman of the Senate Judiciary Committee Charles Grassley, as well as Connecticut Senator Richard Blumenthal have individually contacted Mylan with their concerns about the price increase.
Senator Amy Klobuchar of Minnesota, the top Democrat on the Judiciary committee's antitrust subcommittee, has written to the Federal Trade Commission and has also called for a hearing to investigate the situation.
Mylan has issued a statement saying that "wholesale price has changed over time to better reflect important product features and the value the product provides," according to NBC News.
Mylan has something of a monopoly, since it is the only legal manufacturer of EpiPens. Other similar devices just are not as effective.
Auvi-Q is no longer available due to a lack of efficacy in delivering epinephrine. Adrenaclick is less expensive than an EpiPen at $142 for two pens at some locations, but it's not as simple to use.
Barbara Young, a pharmacist from the American Society of Health-System Pharmacists, advises that any patients using Adrenaclick should go through training first.
While EpiPens also require some training for the patient prior to use, they are easier to implement than Adrenaclick devices.
It's also possible to self-administer epinephrine via syringe, but this can be dangerous since an accidental injection into a vein can kill.
Since there is no similar generic alternative to an EpiPen, some patients are buying outside of the country for a lower price.
In 2007, one cost about $57. Now even someone with insurance can pay $300, while those with high deductibles could pay more than $1,000. Mylan does make EpiPens available to patients without insurance.
Mylan said that the company "has worked tirelessly over the past several years advocating for increased anaphylaxis awareness, preparedness and access to treatment for those living with potentially life-threatening (severe) allergies. Ensuring access to epinephrine—the only first-line treatment for anaphylaxis—is a core part of our mission."
Mylan takes in more than $1 billion annually from the sale of EpiPens. Bloomberg reported that this is 40 percent of Mylan's profits.
According to NBC News, Mylan's CEO Heather Bresch has gotten raises totalling an increase of 671 percent, from $2,453,456 to $18,931,068. That was during the period when the EpiPen's price went up by 461 percent.
According to Bloomberg, Mylan executive salaries increased as well. President Rajiv Malik's base pay increased 11.1 percent to $1 million in 2015. Chief Commercial Officer Anthony Mauro's pay increased by 13.6 percent to $625,000 at that time.
An FTC spokesman said in a statement to NBC News, "The Commission takes seriously its obligation to take action where pharmaceutical companies have violated the antitrust laws, and it will continue to closely scrutinize drug market competition on consumers' behalf."
Tags: