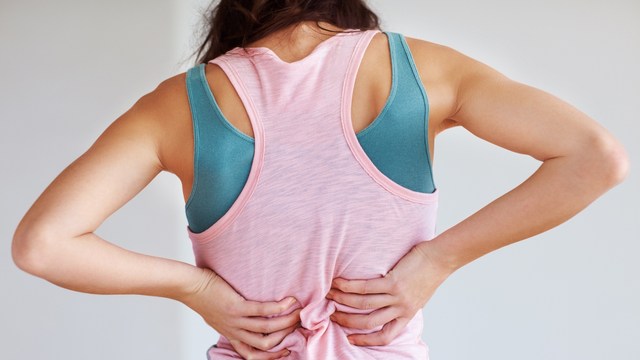 MonkeyBusiness Images/PhotoSpin
Many women experience joint pain whether it's in their knees, hips, fingers or shoulders. The pain might come and go, be worse in the morning, or feel aching and stiff most of the day. The diagnosis is typically done with symptoms and possibly an X-ray that shows joint changes.
Arthritis can start as early as the late teenage years/early twenties however more than 50 percent of people over 65 years old exhibit symptoms of arthritis. What causes the joints to begin to deteriorate and create arthritis?
1. Joint injury
Research shows that those who sustained a joint injury early at a young age are more apt to develop arthritis in that joint at a later age. As an example, 51 percent of women developed knee arthritis 12 years after tearing their anterior cruciate ligament (ACL) in soccer. Many can point back to a car accident, sports injury, broken bone or other trauma when discussing their problem area(s).
2. Obesity
Extra weight on the body coupled with daily activities and gravity means more load on the hips, knees, ankles and feet. This causes those joints to become more strained and inflamed over time, plus it increases the wear and tear on the cartilage that leads to osteoarthritis.
3. Age
Sorry ladies, aging does take its toll on the joints considering more than 50 percent of people over 65 have arthritis symptoms (as stated above). Many women will say "I didn't have these problems in my 20's or 30's!" but over time joint injuries happen, diet/lifestyle choices take effect, genetics kick in, hormones change, weight fluctuates…and suddenly one day women find themselves waking up more stiff and aching.
Those of you who can still go from sitting cross-legged on the floor to a standing position without (much) assistance count yourselves lucky. It will probably change.
4. Congenital abnormalities
If someone were born with joint problems or cartilage issues, then over time the stress on the joints will cause arthritic changes. For example, scoliosis in the spine, or one leg shorter than the other will shift the way the body carries itself causing joint problems.
5. Endocrine disorders
Diabetics and those with low thyroid hormone are at risk for more joint and cartilage problems that can lead to arthritis. Women heading into menopause often complain of more joint pain because their estrogen levels are gradually (or suddenly) decreasing.
What does all this mean? It means, take good care of yourself! This is your one body. Eat healthy, stay hydrated, maintain a healthy body weight, limit sugars and processed foods, and stretch regularly.
Thankfully there are articles on EmpowHER for tips to reduce the symptoms of arthritis if your joints are causing you pain on a regular basis.
Lastly, talk with your health care provider about appropriate work-up and treatment suggestions.
Sources:
1. Sofat, N., Ejindu, V., Kiely, P. What Makes Osteoarthritis Painful? Rheumatology. 2011;50(12):2157-2165.
http://www.ncbi.nlm.nih.gov/pubmed/21954151
2. Roos, E. Joint Injury Causes Knee Osteoarthritis in Young Adults. Curr Opin Rheumatol. 2005;17(2):195-200.
http://www.ncbi.nlm.nih.gov/pubmed/15711235
3. Kramer, P. Prevalence and Distribution of Spinal Osteoarthritis in Women. Spine. 2006;31(24):2843-2848.
http://www.medscape.com/viewarticle/551810_1
Reviewed May 29, 2013
by Michele Blacksberg RN
Edited by Jody Smith