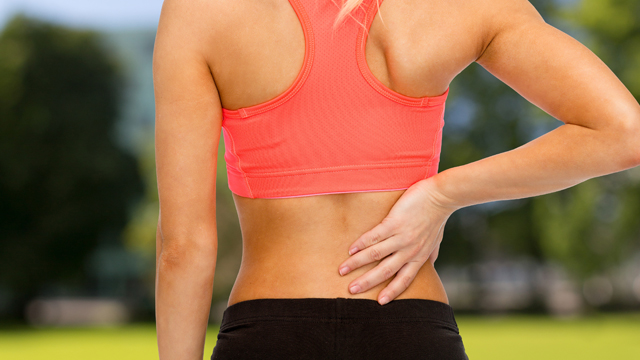 Lots of people suffer from back pain. Many times stress can increase the level of discomfort associated with back pain; we know the signs and symptoms. Sitting in the car for long periods of time, staying on your feet too much, sleeping in an uncomfortable position, or lifting something heavy can all contribute and are all physical stressors.
But how come so many people with chronic, recurring back pain feel that even psychological or emotional stress can cause back pain to increase or even begin when it was quiet and dormant?
How could it be possible that your psychology or your emotions can get all tangled up in your back?
The reason is that we often hold tension in our muscles. Emotional and psychological tension can be held in the body, deep in the muscle tissue. When we hold tension in our muscles, blood flow can become somewhat constricted, cutting off proper circulation to the area and increasing the discomfort.
http://health.howstuffworks.com/diseases-conditions/pain/back/how-to-prevent-back-pain11.htm
The reduced blood flow can actually, over the long term, cause the muscles to deteriorate or weaken, and weaker muscles are far more likely to sustain injury or damage.
There are three main things to do to offset experiencing back pain as a result of stress:
1. Consult a professional about your current situation and get a qualified recommendation about what to do. This could be anything from a hot bath to physical therapy to surgery, depending on your situation. As with any medically related condition, trust your instincts about who to see, what medical or naturopathic path to take, and when to get a second opinion.
2. Realize when stress is coming up for you and how to possibly adjust your physical demeanor to offset holding tension in your muscles.
3. Strengthen your muscles with regular exercise. The type of exercise will vary depending on your age, weight, overall condition, present level of strength, and the problem you are experiencing. For some, strengthening will include lots of stretching and toning. For others, it will include using some weight bearing exercises to increase muscle mass and strength. Follow a program that feels right to you and remember that you're doing it for the present time but also for future stressful situations, to keep yourself from getting into intense pain.
On another note, there are some people who strongly believe that stress related back pain is a real psychological condition--one that must be treated emotionally and psychologically for it truly has nothing whatsoever to do with one's physical body at all. For more on this, click on the link: http://www.spine-health.com/conditions/depression/stress-related-back
Aimee Boyle is a freelance writer, teacher, mother, wife on the shoreline of CT. She is a regular contributor to EmpowHER.
Tags: