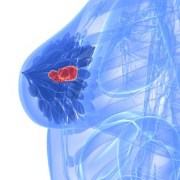 Photo: Getty Images
According to a July 26, 2011 Eurekalert! public release, breast cancer patients on aromatase inhibitors (estrogen-lowering drugs) had reduced joint and muscle pain when taking high doses of vitamin D. Aromatase inhibitors shrink breast tumors and protect against a return of cancer.
Research from Washington University School of Medicine in St. Louis found that pain in patients receiving high doses of a plant-derived vitamin D2 decreased, and in some cases disappeared. Vitamin D3 was not used because it stays in the body longer than with D2, which metabolizes within a week to 10 days.
Usage of vitamin D2 reduced the risk of an overdose of vitamin D. Too much vitamin D can cause high levels of calcium in urine, which can lead to kidney stones. Close monitoring of urine calcium levels is essential.
High doses of vitamin D may also contribute to maintenance of bone density at the neck of the femur (top of the thighbone).
The dose of vitamin D2 administered was 400 international units daily as well as a 50,000 IU capsule weekly. In addition to this, patients were given 1,000 mg of calcium every day.
This study was funded by Astra-Zeneca, makers of Arimidex, the aromatase inhibitor anastrozole.
Research from the Georgetown Lombardi Comprehensive Cancer Center, of Georgetown University Medical Center found that vitamin D decreased estrogen receptor-positive (ER+) breast cancer in mice. Vitamin D showed no benefits for estrogen receptor-negative (ER-) cancer.
Vitamin D also reversed insulin resistance in mice that were obese. This research was reported in an April 4, 2011 article on Sciencedaily.com.
In the ER- breast cancer study, lower doses of 15,000 IUs of vitamin D3 decreased the incidence of mammary tumors in lean mice as compared to lean mice on the control diet. Obese mice were given a higher dose of vitamin D to counter the effect of fat trapping in their tissue. Obese mice that developed ER- cancer had the highest incidence of breast cancer after being on the vitamin D regimen.
In the ER+ breast cancer study, 20,000 IUs of vitamin D were given to all mice. Lean mice had reduced incidence of breast tumors in contrast to the other mice. Obese mice on vitamin D also had fewer tumors than the obese mice not on the vitamin.
In both breast cancer studies, obese mice developed insulin resistance which was then reversed by vitamin D. In the lean mice, vitamin D reduced insulin resistance.
This research seems to suggest that vitamin D supplementation in humans may reverse breast cancer and insulin resistance in the obese. It may also reverse gene action that promotes inflammation.
Funding for the study came from Department of Defense and National Cancer Institute, part of the Department of Health and Human Services. Authors of the study had no personal financial interest in its outcome.
Resources:
Vitamin D relieves joint, muscle pain for breast cancer patients
http://www.eurekalert.org/pub_releases/2011-07/wuso-vdr072611.php
Vitamin D Can Decrease -- Or Increase -- Breast Cancer Development and Insulin Resistance, Study Finds
http://www.sciencedaily.com/releases/2011/04/110404084313.htm
Reviewed August 4, 2011
by Michele Blacksberg R.N.
Visit Jody's website and blog at http://www.ncubator.ca and http://ncubator.ca/blogger
Tags: