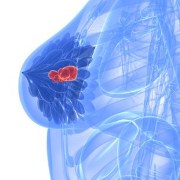 Photo: Getty Images
Like all the fingers on your hand, the signs and symptoms of breast cancer are different for everyone. Some individuals may not even have any initial signs of breast cancer.
One symptom of breast cancer is a mass or lump on the breast or under the arm (in the armpit). The lump may or may not be noticeable with the naked eye. However, the lump may be detected during your breast self-exam (BSE), medical exam or mammogram. According to the Breast Cancer Foundation, "Nearly 70 percent of all breast cancers are found through self-exams and with early detection the 5-year survival rate is 98 percent."
Eight out of ten lumps found in the breast are non-cancerous. The lump may be a cyst or infection and not necessarily breast cancer. However, if you find a lump, contact your primary care physician immediately.
According to BreastCancer.org, "A lump that is painless, hard, and has uneven edges is more likely to be cancer. But sometimes cancers can be tender, soft, and rounded."
Also, the American Cancer Society stated the following may be signs and symptoms of breast cancer. It is crucial to observe and watch for unusual changes in your breast(s).
Breast cancer signs may include:
• A small mass or lump on the breast or in the underarm area
• Breast pain
• Nipple pain or the nipple turning inward
• Swelling of all or part of the breast
• A nipple discharge other than breast milk
• A pus discharge from the nipple (can be yellow, white or green in color)
• Skin irritation or dimpling
• Redness, scaliness, or thickening of the nipple or breast skin
The American Cancer Society website stated, "Sometimes a breast cancer can spread to lymph nodes under the arm or around the collar bone and cause a lump or swelling there, even before the original tumor in the breast tissue is large enough to be felt."
In regards to breast pain, it is important to distinguish abnormal breast pain from possible breast pain that accompanies your period or other medical conditions.
For example, the American Academy of Family Physicians (AAFP) stated breast pain can be caused the following:
• Water retention, which may happen during your period
• Breastfeeding
• An infection in the breast
• Injury to your breast
• Hormone changes during your period
• Pregnancy
According to the AAFP's website, "If you have breast pain that lasts for a long time or keeps coming back, it's probably a good idea to talk to your doctor about it."
Sources:
American Cancer Society: Information and Resources for Cancer: Breast, Colon, Prostate, Lung and Other Forms. Retrieved October 18, 2011, from http://www.cancer.org/Cancer/BreastCancer/MoreInformation/BreastCancerEarlyDetection/breast-cancer-early-detection-signs-symptoms-br-ca
Self Examination - National Breast Cancer Foundation. National Breast Cancer Foundation® Official Site - Information, Awareness & Donations. Retrieved October 18, 2011, from
http://www.nationalbreastcancer.org/about-breast-cancer/Breast-Self-Exam.aspx
Breast Pain in Women -- familydoctor.org. Health information for the whole family -- familydoctor.org. Retrieved October 18, 2011, from http://familydoctor.org/online/famdocen/home/women/reproductive/breast/571.html
Symptoms of Breast Cancer. BreastCancer.org. Retrieved October 18, 2011, from www.breastcancer.org/symptoms/understand_bc/symptoms.jsp
Reviewed October 18, 2011
by Michele Blacksberg RN
Edited by Jody Smith