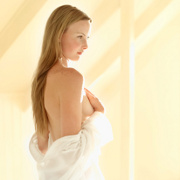 Photo: Getty Images
Breast cancer is not a death sentence. According to the American Cancer Society, "there are more than 2.6 million breast cancer survivors in the United States."
The American Cancer Society also states "after increasing for more than two decades, female breast cancer incidence rates decreased by about 2 percent per year from 1999 to 2005. This decrease was seen only in women aged 50 or older, and may be due at least in part to the decline in use of hormone therapy after menopause that occurred after the results of the Women's Health Initiative were published in 2002. This study linked the use of hormone therapy to an increased risk of breast cancer and heart diseases."
It is believed the decrease in breast cancer deaths is due to earlier detection through breast self-exams and mammograms, increased awareness and treatment advances.
The following are important breast cancer facts and breast cancer statistics. The breast cancer statistics were compiled from the following organizations: Breastcancer.org, Susan G. Komen for the Cure, The Breast Cancer Society, Centers for Disease Control, and the American Cancer Society.
The breast cancer statistics are only related to the United States. Breast cancer facts:
• Breast cancer is one of the leading causes of cancer deaths among women of all races and Hispanic origin populations
• One in eight women will develop invasive breast cancer over the course of her lifetime
• Aside from non-melanoma skin cancer, breast cancer is the most common cancer among women
• One in four cancers in women (about 28 percent) are breast cancer
• Less than 1 percent of all new breast cancer cases occur in men
• Breast cancer death rates are higher than those for any other cancer, besides lung cancer
• Caucasian women are slightly more likely to develop breast cancer and less likely to die of it
• The most significant risk factors for breast cancer are gender (being a woman) and age (growing older)
• Seventy to 80 percent of breast cancers occur in women who have no family history of breast cancer
• Twenty to 30 percent of women diagnosed with breast cancer have a family history of breast cancer
• A woman's risk of breast cancer doubles if she has a first-degree relative (mother, sister, daughter) who has been diagnosed with breast cancer
• Five to ten percent of breast cancers can be linked to gene mutations (abnormal changes) inherited from one's mother or father. Mutations of the BRCA1 and BRCA2 genes are the most common
• Asian, Latino and Native American women have a lower risk of developing and dying from breast cancer than Caucasian women and African American women
• African American women tend to have more aggressive breast cancer tumors
Sources:
What are the key statistics about breast cancer? American Cancer Society: Information and Resources for Cancer: Breast, Colon, Prostate, Lung and Other Forms. Retrieved October 19, 2011, from http://www.cancer.org/Cancer/BreastCancer/DetailedGuide/breast-cancer-key-statistics
Susan G. Komen for the Cure | Understanding Breast Cancer | Breast Facts | Statistics | Breast Cancer Statistics. Susan G. Komen for the Cure. Retrieved October 19, 2011, from
http://ww5.komen.org/BreastCancer/Statistics.html
Breast Cancer Statistics. BreastCancer.org. Retrieved October 19, 2011, from www.breastcancer.org/symptoms/understand_bc/statistics.jsp
Breast Cancer Statistics | Breast Cancer Society, Inc. Breast Cancer Awareness Information, Support & Merchandise | Breast Cancer Society, Inc. Retrieved October 19, 2011, from http://www.breastcancersociety.org/aboutbreastcancer/factsandstatistics/breastcancerstatistics.shtml
State. CDC - Breast Cancer Statistics. Centers for Disease Control and Prevention. Retrieved October 19, 2011, from
http://www.cdc.gov/cancer/breast/statistics
Reviewed October 19, 2011
by Michele Blacksberg RN
Edited by Jody Smith