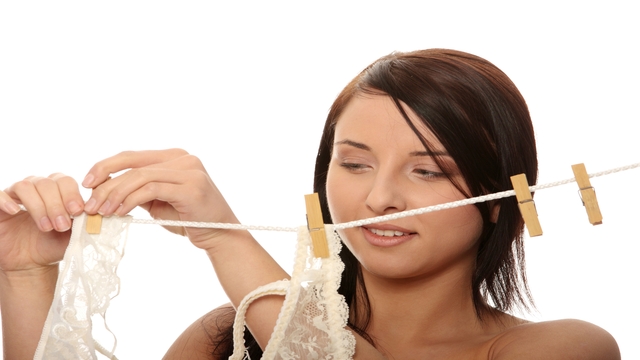 Photo: Getty Images
City officials put the kibosh on an event scheduled to kick off October as Breast Cancer Awareness Month in Savannah, Ga., because they say it went too far, even for a worthy cause.
The idea, "Bras Across Broughton" was to string donated bras over Broughton at four major intersections with a local car dealer agreeing to donate $1 for each piece of lingerie, up to $5,000. The proceeds would benefit Coastal Georgia Susan G. Komen for the Cure.
Although similar events have been held in other communities across the country, Savannah city officials deemed the event, hosted by 98.7 The River, the local Clear Channel affiliate, as being in poor taste and have denied the station's permit request.
City Manager Rochelle Small-Toney backed the decision explaining it in a memo to City Council members last week, reported the Savannah Morning News.
"We have always closely scrutinized for appropriateness any private use of our public spaces," the memo said. "In this case, we weighed the goal of increased breast cancer awareness with the appropriateness of hanging underwear across one of our main streets."
Savannah Alderman Van Johnson says the city isn't opposed to breast cancer awareness per se.
"I think it's a noble cause, but we have to be judicious when it comes to our public spaces," Johnson said. "What do we do when someone wants to hang something for colon cancer or prostate cancer?" the paper reported.
The fundraiser has the full endorsement of the board of the Coastal Georgia Affiliate of Susan G. Komen for the Cure who has asked the city board to reconsider its decision. Regardless, the breast cancer non-profit organization plans to move forward with or without the city's blessing.
On the Costal Georgia Komen website, Caroline Keller, local board president urges residents to continue donating their bras.
"Shop owners along Broughton Street have agreed to display strings of bras in their windows to support the cause, she said.
Lynette Summerill, an award-winning writer and scuba enthusiast lives in San Diego, CA with her husband and two canine kids. In addition to writing about cancer-related issues for EmpowHER, her work has been seen in newspapers and magazines around the world.
Sources:
Coastal Georgia Affiliate of Susan G. Komen for the Cure website Accessed online 27 September 2011 at http://komencoastalgeorgia.org.
Savannah bans "Bras on Broughton" fundraiser. Lesley Conn. Savannah Morning News. Accessed online 27 September 2011 at http://savannahnow.com/news/2011-09-26/savannah-bans-bras-broughton-fundraiser#.ToIc2k-fwiw
Reviewed September 29, 2011
by Michele Blacksberg RN
Edited by Jody Smith
Tags: