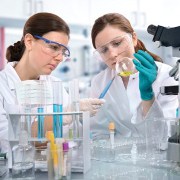 Photo: Getty Images
As patients, more and more of us have much to be thankful for. In the most pronounced cases, we are actually living with a formerly terminal illness. Medical progress has made a difference for us or a loved one.
Often I hear people gripe about complications and side effects. They can be disabling. But here too, the medical people are learning how to limit the risk of complications and ameliorate side effects.
However, we have to keep in mind how powerful some medicines are, like for MS, or rheumatoid arthritis, or cancer. While we wish we had medicines that have no side effects, in the vast majority of illnesses, we are just not there yet.
But can't we be thankful? As I like to say to fellow cancer survivors, "It sure beats the alternative." Or as one told me, "I'm just thankful I am on the top side of the grass!" You have to think about that one.
So who do we thank for our survival or our recovery? Do we thank God, if we are religious? Do we thank ourselves for courage to move forward, often through difficult treatments? Yes and yes. But there are others too.
We need to thank medical researchers. These are the folks in white lab coats in labs around the world trying to answer difficult science questions. These are the folks who have now divided cancer, for example, into a thousand different diseases and are trying to develop targeted treatments for each.
They are people like Alana Welma, PhD, at the Huntsman Cancer Institute in Salt Lake City. She has led a team that uses mice to unlock more secrets of why and where breast cancers spread.
When I interviewed her recently, I decided to be a surrogate for all of the patients, including possibly you, who benefit from the research that she and her colleagues do. Patients rarely get to meet a scientist and they rarely get to meet us. It's time for a BIG thank you to them.
You can hear me thank her for all of us, and see the program, "Exciting Research to Predict if Your Cancer Might Spread" here: http://goo.gl/LtVjL
We also need to thank pioneering patients. In the United States, and it's similar in other countries, a government agency has to approve a new medicine before it can be marketed.
Is it safe? Is it effective? The only way to know is for patients to team with researchers -- to volunteer for clinical trials. I have now done that twice.
The first was in 2000 for a phase II clinical trial for a new drug combination in leukemia. It worked for me and even today I remain in deep remission. Then earlier this year I volunteered for a phase III trial to test a new medicine to lower the risk of blood clots in one's legs. I take two green pills and two yellow pills every day and only one is the real medicine. But we don't know which is real and which are sugar pills.
I am happy to help as have thousands of other patients. We need to thank them too. Every time you benefit from medical progress someone went before you and helped researchers fulfill their dream of curing or beating back a serious health condition.
One thing is for sure, as much as the battle against illness is a winding road, we do need to say thanks for the progress that's been made. There are many alive today who are a testament to that and many people who are living a fuller life.
Happy Thanksgiving!
About the author: Andrew Schorr is a medical journalist, cancer survivor and founder of Patient Power, a one-of-a-kind company bringing in-depth information to patients with cancer and chronic illness. Audio and video programs, plus transcripts, help patients make informed decisions to support their health in partnership with their medical team.
Patient Power is at www.PatientPower.info and on Facebook, YouTube and Twitter. Schorr is also the author of "The Web Savvy Patient: An Insider's Guide to Navigating the Internet When Facing Medical Crisis" found at www.websavvypatient.com/
Resources:
Interview, Alana L. Welm, PhD, Assistant Professor, Department of Oncological Sciences, Huntsman Cancer Institute, Salt Lake City, Utah, 11/23/2011 , http://www.patientpower.info/video/exciting-research-to-predict-if-your-cancer-might-spread
Patient Power Clinical Trials Health Center, online, accessed 11/23/11, http://www.patientpower.info/health-topic/clinical-trials
Reviewed November 24, 2011
by Michele Blacksberg RN
Edited by Jody Smith