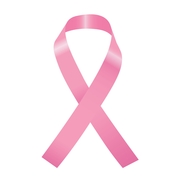 Nelson Marques/PhotoSpin
Breast cancer is the second leading cause of cancer-related death among women. This year an estimated 226,870 women will be diagnosed with breast cancer, and 39,510 will die from the disease, according to a Food and Drug Administration press release in June.
The main goals of a cancer diagnosis and treatment programs other than to cure are to prolong the life of patients and to ensure the best possible quality of life to cancer survivors, according to the World Health Organization.
On Monday, Roche, the world's largest biotech company, updated results from the Phase III EMILIA study, which showed that trastuzumab emtansine (T-DM1) improved the overall survival of people with HER2-positive metastatic breast cancer compared to a combination of drugs.
According to the Food and Drug Administration, about 20 percent of breast cancers have increased amounts of the HER2 protein.
HER2-positive breast cancers tend to grow faster and are more likely to spread and come back compared to HER2-negative breast cancers.
HER2 is a protein involved in normal cell growth. It is found in increased amounts in some HER2-positive breast cancers. It contributes to cancer cell growth and survival.
The antibody drug T-DM1 targets and inhibits HER2 signaling and carries the chemotherapy DM1 directly inside HER2-positive cancer cells. T-DM1 binds to the HER2-positive cancer cells, blocks signals that make the cancer grow and alerts the immune system to attack the cancer cells.
The design of T-DM1 is to release the DM1 once the cancer cells absorb it.
Herceptin is the most commonly used medication in breast cancer, according to Breastcancer.org. Herceptin blocks HER2 receptors on breast cancer cells, slowing or even stopping the growth of the breast cancer. Herceptin can also alert the immune system to destroy the cancer cells it attaches to.
Another option is the combination of Tykerb with the chemotherapy, Xeloda, which treats advanced HER2-positive breast cancer that has stopped responding to other forms of chemotherapy and Herceptin.
"We believe that antibody-drug conjugates have the potential to change the future treatment of cancer, and we look forward to working with regulatory authorities in the hope of bringing another potential treatment option to people with HER2-positive metastatic breast cancer," said Hal Barron, Roche's Chief Medical Officer in a press release.
Sources:
HER2 status
Breastcancer.org. Retrieved August 27, 2012.
http://www.breastcancer.org/symptoms/diagnosis/her2.jsp
New data from Phase III EMILIA study showed Roche's trastuzumab emtansine (T-
DM1) significantly improved survival of people with HER2-positive metastatic breast cancer
Roche.com. Retrieved August 27, 2012.
http://www.roche.com/media_releases.htm
Treatment of cancer
Who.int. Retrieved August 27, 2012.
http://www.who.int/cancer/treatment/en/
FDA approves Perjeta for type of late-stage breast cancer
Fda.gov. Retrieved August 27, 2012.
http://www.fda.gov/NewsEvents/Newsroom/PressAnnouncements/ucm307549.htm
Roche drug helped breast cancer patients survive longer
Reuters.com
http://www.reuters.com/article/2012/08/27/us-roche-idUSBRE87Q03L20120827
Reviewed August 28, 2012
by Michele Blacksberg RN
Edited by Jody Smith