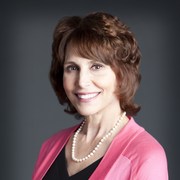 Photo Courtesy of Are You Dense Inc.
Starting at the age of 50, all women should have a mammogram every one to two years, according to MedlinePlus.
Recommendations from other organizations vary, with some women being encouraged to start at the age of 40. X-ray is used to image the breast.
The National Cancer Institute stated that the most effective way to detect breast cancer is a combination of a regular mammogram and clinical exam.
However, for women who have dense breast tissue, the mammogram may not be effective in detecting changes, as the dense tissue and tumor both appear solid white on the imaging.
EmpowHER talked to Nancy Cappello, Ph.D. about her advocacy for dense breast tissue awareness. In February 2004, Nancy was diagnosed with breast cancer.
But her mammograms had come back as normal. It was not until her annual physical that her physician felt a ridge, and an ultrasound also confirmed the presence of a 2.5 cm tumor.
Her mammograms had not detected the tumor because she has dense breast tissue.
EmpowHER:
Why did you decide to become an advocate for dense breast tissue awareness?
Nancy Cappello:
When I was diagnosed with advanced-stage IIIC breast cancer (a 1" invasive tumor with 13 metastasized lymph nodes) within weeks of a "normal" mammogram, I was baffled. I questioned my docs how my cancer could be so advanced in light of my decade of faithful yearly screenings and "normal' mammography reports.
This was the first time I was informed that my "dense breast tissue" limited the ability of my mammograms to find my cancer. Shocked that there was something about my breast tissue composition that got in the way of an early diagnosis (after all, isn't this the reason woman go for screening?); I hunted for information about my "dense breast tissue."
Popular women's publications and cancer and physician organizations' websites were void on the subject of this 'dense' condition that prevented my cancer from being detected early, thus receiving the life sentence that the odds of living beyond five years was less than fifty percent.
Searching the medical journals, I uncovered a myriad of studies that first shocked me and later compelled me to bring this critical breast health information to women; since the medical and cancer community had failed to do so and had no plans to routinely tell women about their breast tissue composition.
EmpowHER:
What do women need to know about dense breast tissue?
Nancy Cappello:
These scientific facts that I read of in 2004 were researched in the literature for more than a decade (I call it the best-kept secret):
Forty percent of women have dense breast tissue
Mammography misses every other cancer in dense breasts
Dense breast tissue is a well-established risk factor for cancer
Adding ultrasound or MRI to mammography for women with dense breast tissue will significantly detect cancer that is occult (not seen) on mammography. These cancers are invasive and the great majority is small and at an early stage.
We estimate, based on scientific studies and Connecticut data, that 45,000 women each year receive their "happy gram" report of their mammogram which states "normal" yet have hidden invasive cancer that will continue to lurk in their dense tissue and, once palpable, all chances of an early cancer diagnosis have vanished.
There is no requirement that doctors speak to women about dense breast tissue even though it predicts the accuracy of a mammogram at any age.
EmpowHER:
Tell me about your organization, Are You Dense, Inc.
Nancy Cappello:
Armed with knowledge and the decades of science about the risks and screening challenges of dense breast tissue, I began working with the Connecticut Legislature and in 2005 we passed the first bill in the nation to require insurance companies to cover whole breast ultrasound as an added screening to mammography for women with dense breast tissue.
I started receiving invitations to speak and developed a brochure and fittingly named it Are You Dense? We officially started the corporation Are You Dense, Inc. in 2008, concurrently filed an application to the IRS as a 501(c)(3) public charity and launched the Are You Dense? website to educate the public about the risks and screening challenges of dense breast tissue.
Today, the website is bustling with interest from citizens across the United States and 65 countries. Just recently, Dr. Tozaki, a Japanese Radiologist and Founder of the Japanese Breast Cancer Imaging Network (BCIN), linked the website to the BCIN website to educate Japanese citizens about dense breast tissue -- a critical and potential fatal flaw in breast cancer screening.
EmpowHER:
You talked to EmpowHER Live in 2010. What has been happening with your advocacy work since then?
Nancy Cappello:
In 2009, through my continued work with the legislature, another landmark bill became law as Connecticut became the first state in the nation to standardize the communication of dense breast tissue to women through the mammography report. When I spoke to EmpowHER founder, Michelle King Robson in 2010, Connecticut was the only state that enacted legislation to protect women from later stage cancers by educating them about dense breast tissue.
Through our popular website and the vast outreach of Are You Dense Inc., I began hearing from women with the SAME common story – later stage cancer detected within months or weeks of a screening mammogram which reports "normal."
I started Are You Dense Advocacy, Inc. in 2011; a 501(c)(4) public charity whose mission is to employ legislative and regulatory efforts to standardize the communication of breast density to women.
Presently, there are four states additional to Connecticut with notification legislation (Texas, Virginia, New York and California) and in the 2013 session, we are working with legislators and advocates from 12 states with density bill introductions.
Federal breast density notification legislation, introduced originally by Representative Rosa DeLauro of CT in 2011, should be reintroduced soon in the U.S. House of Representatives with plans to introduce a companion bill in the U.S. Senate later this spring.
EmpowHER:
What advice would you give to other women who want to become an advocate for a health condition they have?
Nancy Cappello:
Advocacy work is not for the fainthearted! Learn about the science of the health condition that you are advocating about. Tell your compelling story (or story about a family member or loved one with the health condition) as putting a face to a condition is powerful and meaningful as it brings the issue to life.
Surround yourself with like-minded advocates; as the work is challenging and requires an inordinate time-commitment. Be steadfast and relentless in the Mission as you will encounter opposition to the advocacy work.
Finally, celebrate your accomplishments. I recognize, at the end of days filled with as many disappointments as victories, that I am using my personal story to exchange a potential tragedy with improved health and life outcomes for women and their families – this is one of the life's highest callings.
References
Interview with Nancy M. Cappello, Ph.D. Email. 12 March 2013.
MedlinePlus Medical Encyclopedia. Mammography. Web. 13 March 2013.
http://www.nlm.nih.gov/medlineplus/ency/article/003380.htm
National Cancer Institute. Mammograms Fact Sheet. Web. 13 March 2013.
http://www.cancer.gov/cancertopics/factsheet/detection/mammograms
MayoClinic.com. Mammograms: Can It Find Cancer in Dense Breasts?. Web. 13 March 2013.
http://www.mayoclinic.com/health/mammogram/AN01137
Reviewed March 13, 2013
by Michele Blacksberg RN
Edited by Jody Smith