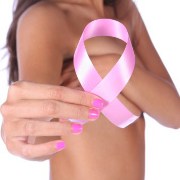 Photo: Getty Images
According to the National Institutes of Health "Breast cancer affects one in eight women during their lives." In the United States, breast cancer is the second leading cause of cancer deaths. More than 50 percent of all women diagnosed with breast cancer are 65 years old or older.
It is unknown why some women get breast cancer and others do not. Some men can also have breast cancer.
The National Breast Cancer Foundation website stated, "Breast cancer is a disease in which malignant (cancer) cells form in the tissues of the breast."
As you age, your chances of breast cancer increase. Here are some additional risk factors for breast cancer.
The following breast cancer risks include:
• Beginning your period before age 12
• Overweight
• Taking birth control pills
• Drinking alcohol
• Having dense breasts
• Not having children or having your first child after age 35
• Using hormone replacement therapy (also called menopausal hormone therapy)
• Going through menopause after age 55
• Carrying the BRCA1 or BRCA2 gene
The National Institutes of Health stated "there are two genes, BRCA1 and BRCA2, that greatly increase the risk. Women who have family members with breast or ovarian cancer may wish to be tested."
Like other cancers, breast cancer is most treatable in the early stages. Early detection is the best prevention.
The National Breast Cancer Foundation recommends an early detection plan. An early detection plan could save your life. The following early detection plan is based on the Foundation's recommendations.
Your early detection plan should include the following:
• All Ages. Keep a detailed file or record the following on a calendar:
o Record personal exams
o Record mammograms
o Record doctors' appointments
o Also, maintain a healthy weight, follow a low-fat diet, exercise regularly, quit smoking, and reduce alcohol consumption
• Beginning at age 20: Perform breast self-exams and look for any signs of change.
• Age 20 to 39: Schedule clinical breast exams every three years.
• By the age of 40: Have a baseline mammogram and annual clinical breast exams.
• Ages 40 to 49: Have a mammogram every one to two years depending on previous findings.
• Ages 50 and older: Have a mammogram every year.
The breast self-exam (BSE) is one of the key elements of breast cancer prevention. According to the Breast Cancer Foundation, "Nearly 70 percent of all breast cancers are found through self-exams and with early detection the 5-year survival rate is 98 percent."
Immediately contact your primary health care physician if you find a lump. Keep in mind, eight out of ten lumps are non-cancerous.
For a detailed explanation of a BSE, click on the following link. http://www.nationalbreastcancer.org/about-breast-cancer/Breast-Self-Exam.aspx
This week EmpowHER.com will also be featuring additional stories on breast cancer. Types of upcoming stories include: symptoms of breast cancer, types of breast cancer and statistics of breast cancer.
Sources:
Breast Cancer Home Page - National Cancer Institute. Comprehensive Cancer Information - National Cancer Institute. Retrieved October 17, 2011, from http://www.cancer.gov/cancertopics/types/breast
Breast Cancer Myths - National Breast Cancer Foundation. National Breast Cancer Foundation® Official Site - Information, Awareness & Donations. Retrieved October 17, 2011, from
http://www.nationalbreastcancer.org/About-Breast-Cancer/Myths.aspx
Breast Cancer Risk Factors - National Breast Cancer Foundation. National Breast Cancer Foundation® Official Site - Information, Awareness & Donations. Retrieved October 17, 2011, from
http://www.nationalbreastcancer.org/about-breast-cancer/Risk-Factors.aspx
Self Examination - National Breast Cancer Foundation. National Breast Cancer Foundation® Official Site - Information, Awareness & Donations. Retrieved October 17, 2011, from
http://www.nationalbreastcancer.org/about-breast-cancer/Breast-Self-Exam.aspx
What is Breast Cancer - National Breast Cancer Foundation. National Breast Cancer Foundation® Official Site - Information, Awareness & Donations. Retrieved October 17, 2011, from
http://www.nationalbreastcancer.org/about-breast-cancer/what-is-breast-cancer.aspx
Breast Cancer Detection Plan - National Breast Cancer Foundation. National Breast Cancer Foundation® Official Site - Information, Awareness & Donations. Retrieved October 17, 2011, from
http://www.nationalbreastcancer.org/about-breast-cancer/Early-Detection-Plan.aspx
Breast Cancer: MedlinePlus. National Library of Medicine - National Institutes of Health. Retrieved October 17, 2011, from http://www.nlm.nih.gov/medlineplus/breastcancer.html
Breast cancer - PubMed Health. National Center for Biotechnology Information. Retrieved October 17, 2011, from http://www.ncbi.nlm.nih.gov/pubmedhealth/PMH0001911/
Reviewed October 17, 2011
by Michele Blacksberg RN
Edited by Jody Smith