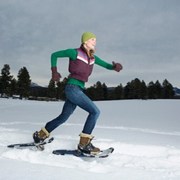 Photo: Getty Images
This year, why not be resolute about improving your health? Try these ten tips to get your New Year off to a great start and lower your cancer risk.
10. Trim your waistline: Dr. Anna E. Prizment, a postdoctoral fellow at the University of Minnesota Masonic Cancer Center found that belly fat appears to be a "useful indicator of higher colon cancer mortality."
In analyzing data from the Iowa Women's Health Study in 2010, Dr. Prizment discovered women with high waist-to-hip ratios had a 30 to 40 percent greater risk of colon cancer-related death.
9. Cut Saturated Fats: Lighten up your diet by eliminating saturated and trans fats and use olive oil instead. Extra virgin olive oil is perhaps the healthiest type of fat.
It's high in phytochemical antioxidants (non-nutritive plant chemicals that have protective or disease preventive properties) and vitamin E. Olive oil may even help prevent breast and colon cancers.
8. Spice it up: Hot peppers containing capsaicin are known fat-busters that help suppress the appetite and speed up metabolism to burn extra calories. Capsaicin also has an anti-cancer effect, blocking cancer and slowing tumor growth.
7. Get Screened: Regular screening and self-examination may not prevent cancer, but it can increase your chances of discovering cancer early, when treatment is more likely to be successful. Screening should include your skin, mouth, colon and rectum.
If you're a man, include your prostate and testes. If you're a woman, add cervical and breast cancer screening to your list. Be your own best advocate by being aware of changes in your body — and if you notice any changes, see your doctor immediately.
6. Improve your sleep habits: Many health problems have been linked to a lack of sleep and even short periods of sleep deprivation can promote glucose intolerance, cause imbalances in hormones and raise blood pressure.
While the lack of sleep has not been firmly established to increase one's cancer risk, some top researchers believe it's certainly a possibility. Getting enough sleep helps you control your weight, while too little sleep has been linked to heighten binge eating.
5. Maintain a healthy weight: Being the right size for your frame throughout life helps reduce your risk for cancer and other chronic diseases, such as heart disease and diabetes. The National Cancer Institutes concluded in 2001, colon cancer, breast cancer in postmenopausal women, endometrial cancer (which affects the lining of the uterus), kidney cancer, and esophageal cancer are all associated with excess weight.
Some studies have also reported links between obesity and gallbladder cancer, ovarian cancer and pancreatic cancer. Experts say excess weight causes the body to produce and circulate more of the hormones estrogen and insulin, which has been associated with cancer growth.
4. Eat colorful: Experts say the mainstay of a healthy diet should be plant-based, meaning eating lots of vegetables, fruits and berries. At least five servings per day are recommended.
These foods contain important vitamins, minerals, phytochemicals, antioxidants and are usually low in calories. In general, those with the most color — blue, purple, orange, green, red and yellow — have the most nutrients.
3. Use Sunscreen: The vast majority of skin cancers are caused by overexposure to ultraviolet (UV) radiation. "Getting a painful sunburn just once every two years can triple your chances of getting skin cancer," says Dr. Jodie Moffatt, of Cancer Research UK.
However, using a sunless self-tanning product rather than suntanning and continuing to apply sunscreen everyday can help greatly reduce skin cancer risk. Individuals with lighter-toned skin, lots of moles or freckles are more susceptible to UV damage, although people of all races and ethnicities are at risk of developing skin cancer.
2. Get and Stay Physical: Apart from not smoking, being physically active is the most powerful lifestyle choice any person can make to improve their health, says Leslie Alford, a physiotherapist and lecturer at the University of East Anglia, who reviewed 40 international papers between 2006 and 2010. He found a growing body of evidence suggesting increasing physical activity can reduce the risk of certain types of cancers, osteoporosis, Type 2 diabetes, depression, obesity and high blood pressure and slow down how quickly a person's body deteriorates as they age.
Current research shows physical activity provides benefits in primary cancer prevention and management and there's an existing association between higher levels of physical activity and lower cancer death rates.
1. Quit Smoking: Smoking is the single most preventable cause of cancer death in society. Smoking damages every organ in the human body, is linked to at least 15 different cancers and accounts for some 30 percent of all cancer deaths.
Cigars and smokeless tobacco are not a safe alternative to cigarettes. Both have been scientifically linked to several types of cancer, especially of the oral cavities, larynx and three-quarters of all lung cancer. The Food and Drug Administration also recently determined that electronic cigarettes, or e-cigarettes, contain cancer-causing ingredients.
Lynette Summerill, an award-winning writer and scuba enthusiast lives in San Diego, CA with her husband and two beach loving dogs. In addition to writing about cancer-related issues for EmpowHER, her work has been seen in newspapers and magazines around the world.
Sources:
Abnormal Body Weight Related to Increased Mortality in Colon Cancer Patients. Cancer Watch. September 2010. Accessed online 27 December 2011 at:
http://www.cancerwatch.org/Abnormal-Body-Weight-Related-to-Increased-Mortality-in-Colon-Cancer-Patients-p17990.html
Olive oil a rich source of antioxidants. MSNBC.com. Karen Collins, RD. 4 April 2006. Accessed online at: http://www.msnbc.msn.com/id/11758647/ns/health-fitness/t/olive-oil-brings-more-flavor-your-diet/#.Tvqf30qiYXw
Which is Healthier:Liquid or Powder Cayenne Pepper? Livestrong.com Accessed online 27 December 2011 at: http://www.livestrong.com/article/397666-which-is-healthier-liquid-or-powder-cayenne-pepper/
Cancer Screen Guidelines. American Cancer Society. Accessed online 27 December 2011 at: http://www.cancer.org/Healthy/FindCancerEarly/CancerScreeningGuidelines/index
Sleep and Disease Risk. Harvard Medical School. Accessed online 27 December 2011 at: http://healthysleep.med.harvard.edu/healthy/matters/consequences/sleep-and-disease-risk
Energy Balance: Weight and Obesity. National Cancer Institute. Accessed online 27 December 2011 at: http://www.cancer.gov/cancertopics/prevention/energybalance
Color your diet with foods to prevent cancer. University of Michigan Comprehensive Cancer Center News. Accessed online 27 December 2011 at:
Skin Cancer on the Rise Among 15-34. BCC. Charlott Ashton. 16 June 2009. Accessed online 27 December 2011 at: http://news.bbc.co.uk/newsbeat/hi/health/newsid_8102000/8102927.stm
L. Alford. What men should know about the impact of physical activity on their health. International Journal of Clinical Practice, 2010; 64 (13): 1731 DOI: 10.1111/j.1742-1241.2010.02478.x Abstract accessed online 27 December 2011 at: http://onlinelibrary.wiley.com/doi/10.1111/j.1742-1241.2010.02478.x/abstract;jsessionid=6C4D6AF6F71DADB18803C71B6BDDB3B0.d02t02
ScienceDaily. Regular Exercise Reduces Large Number of Health Risks Including Dementia and Some Cancers, Study Finds. 15 Nov. 2011. Online at: http://www.sciencedaily.com/releases/2010/11/101115074040.htm
Tobacco Use: Targeting the Nation's Leading Killer At A Glance 2011. Centers for Disease Control and Prevention. Accessed online 27 December 2011 at: http://www.cdc.gov/chronicdisease/resources/publications/AAG/osh.htm
Reviewed December 29, 2011
by Michele Blacksberg RN
Edited by Jody Smith