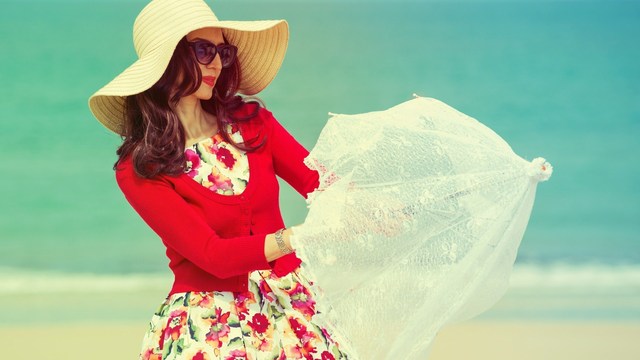 Lev Kropotov/PhotoSpin
A Skin Cancer Diagnosis Before Age 25 Puts You at Higher Risk for 29 Other Types
For much of North America, the record cold winter of 2013-14 will be one for the history books. Now that signs of spring are finally upon us, families are gearing up for Spring Break with plans of leaving the cold, dark, overcast days in the rearview mirror and heading to locations with plenty of sunshine.
It's fun to sunbathe, swim, ski and snowboard, but experts warn not to overdo the sun exposure. Solar radiation can damage your skin no matter the temperature outside, and getting just one serious sunburn can actually have long-lasting and dangerous consequences.
Intense, intermittent sun exposure -- the kind that leads to sunburn and the kind that's common during a Spring Break vacation -- is linked to basal cell carcinoma, the most common skin cancer, as well as melanoma, the most deadly skin cancer.
Melanoma is now the most common form of cancer in young adults 25-29 years old, and the second most common form of cancer in adolescents and young adults ages 15-29, according to The Skin Cancer Foundation.
It's important for everyone, no matter their age or natural color, to be extra committed to protecting their skin.
Here's 3 revelations that could affect your Spring Break.
The 'Base Tan' Myth
Some people believe that by beginning their tanning sessions indoors before Spring Break they are "protecting" their skin. In reality these people are laying more harm onto themselves. A tanis the manifestation of damaged skin.
Studies show that first exposure to tanning beds in youth increases melanoma risk by 75 percent.
The International Agency for Research on Cancer (IARC), affiliated with the World Health Organization, published a landmark report in 2010 listing the UV radiation from tanning beds among the most dangerous forms of cancer-causing radiation for humans, alongside radon and plutonium, as well as solar UV radiation.
This WHO report, along with the melanoma gene study, have linked UV radiation and melanoma. Other research linking intense, intermittent sun exposure with basal cell carcinoma and melanoma together strongly reinforce the case against tanning.
A Lifetime of Cancer Risk
People who are diagnosed with nonmelanoma skin cancer (NMSC) have an increased risk for subsequently developing melanoma and 29 other cancer types.
That risk increases substantially for people diagnosed with NMSC before the age of 25. This is a finding in a new study published in the March 2014 issue of Cancer Epidemiology, Biomarkers & Prevention, a journal of the American Association for Cancer Research.
NMSC is the most common type of skin cancer. It is relatively easy to treat if detected early, and rarely spreads to other organs.
However, Dr. Rodney Sinclair, director of dermatology at the Epworth Hospital and professor of medicine at the University of Melbourne in Australia, found that NMSC tumors increase the risk for "a large group of seemingly unrelated cancers; the greatest risk relates to other cancers induced by sunlight, such as melanoma&hellip and the risk is especially high among people who develop MNSC at a young age."
The researchers used data from 502,490 people with a history of NMSC, and more than 8.7 million people who served as controls. They followed those people for five to six years.
Compared with people without NMSC, those who had NMSC were 1.36 times more likely to subsequently develop any cancer, including melanoma and salivary gland, bone, and upper gastrointestinal cancers.
Survivors younger than 25 years of age, however, were 23 times more likely to develop any cancer other than NMSC. In particular, they were 94 and 93 times more likely to get melanoma and salivary gland cancer, respectively, the study showed.
They found that for people who had NMSC, the relative risk for developing cancers of the bladder, brain, breast, colon, liver, lung, pancreas, prostate and stomach remained consistently elevated for the entire period of the study, and the risk for cancers of the brain, colon, and prostate increased with time.
People diagnosed with NMSC before age 25 were 53 times more likely to get bone cancer, 26 times more likely to get blood cancers, 20 times more likely to get brain cancer, and 14 times more likely to get any cancer excluding those of the skin.
Tanning as a Lifestyle is Passé
Fashion and beauty insiders agree today it's all about natural beauty. "Beauty begins with healthy, glowing skin," says Bobbi Brown of Bobbi Brown Cosmetics.
"No matter what your age, protect yourself daily from the sun's harmful ultraviolet rays, which not only wrinkle and dull the skin, but increase your risk for skin cancer. It's the best beauty advice I have for keeping your skin looking smooth, luminous and radiant."
The Skin Cancer Foundation's Spring Break Checklist:
- A broad-spectrum SPF 15+ sunscreen -- Apply it often
- Lip balm with SPF 15+ sunscreen
- Wide-brimmed hat to protect the head and neck
- UV-blocking sunglasses to protect the eyes
- Beach sarong for the legs
- Beach umbrella or tent to help you seek the shade
Lynette Summerill is an award-winning writer and watersports junkie who lives in San Diego with her husband and two beach loving dogs. In addition to writing about cancer-related issues for EmpowHER, her work has been seen in publications internationally.
Sources:
Subsequent Primary Malignancies in Patients with Nonmelanoma Skin Cancer in England: A National Record-Linkage Study. Eugene Liat Hui Ong, Raph Goldacre, Uy Hoang, Rodney Sinclair, and Michael Goldacre.Cancer Epidemiol Biomarkers Prev March 2014 23:490-498; doi:10.1158/1055-9965.EPI-13-0902. Abstract at:
http://cebp.aacrjournals.org/content/23/3/490.abstract
Young Nonmelanoma Skin Cancer Survivors More Likely to Get Other Cancers Later. American College of Cancer Research. Web Mar. 18, 2014.
http://www.aacr.org/home/public--media/aacr-in-the-news.aspx?d=3283
Protecting your skin this spring break. Skin Cancer Foundation
http://www.skincancer.org/media-and-press/Press-Release-2010/protecting-...
Reviewed March 18, 2014
by Michele Blacksberg RN
Edited by Jody Smith
Tags: