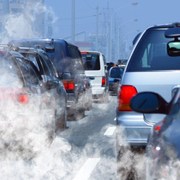 Photo: Getty Images
Urban air pollution from automobile traffic contains low levels of carcinogens in the form of ultrafine particles. Since large population numbers are exposed to this type of pollution, even a small increase in cancer risk can produce a significant number of cancer cases.
Ole Raaschou-Nielsen and colleagues in Denmark performed a study of 54,304 people exposed to different levels of air pollution over the time period 1971 to 2006.
"The airways are the primary target organs, but accumulating evidence from experiments in animals shows that ultrafine particles can translocate to other organs," Raaschou-Nielsen explained. The research team collected records of 21 types of cancer over a period of 10 years. People who lived in areas with the highest air pollution numbers had elevated rates of cervical, brain, and lung cancers.
The participants were enrolled in the Danish Diet, Cancer, and Health cohort study. Air pollution was quantified by the concentrations of NO(x) molecules calculated from the Danish AirGIS modeling system. The researchers performed separate studies for lung cancer and for cancers of all other sites.
Lung cancer rates were 30 percent higher in participants who lived in the highest air pollution areas, compared with the lowest pollution areas. "The results indicated stronger associations among nonsmokers, among participant[s] with longer school attendance, and among those with relatively low dietary intake of fruit", Raaschou-Nielsen reported.
Inhaled carcinogens can reach any part of the body through the bloodstream. In addition, Raaschou-Nielsen reported that ultrafine particles can reach the brain through the olfactory nerves that serve the nose. An inflammatory response may be one step in the development of brain cancer, which showed significantly increased rates in people exposed to the highest levels of air pollution.
The association between high automobile traffic and increased rates of cervical cancer was not explained by any known mechanism. Raaschou-Nielsen pointed out that the researchers had no information on rates of human papillomavirus (HPV) infection, which is recognized as a cause of cervical cancer.
"It is possible that HPV infection is more prevalent among women living in areas with heavy traffic and air pollution," he noted. Further research is needed to determine whether it was the air pollution itself or some related factor that caused higher rates of cervical cancer.
References:
1. Raaschou-Nielson O et al, "Air pollution from traffic and cancer incidence: a Danish cohort study", Environmental Health 2011; 10: 67. http://www.ncbi.nlm.nih.gov/pubmed/21771295
2. Raaschou-Nielson O et al, "Lung cancer incidence and long-term exposure to air pollution from traffic", Environ Health Prespect 2011; 199: 860-865.
http://www.ncbi.nlm.nih.gov/pubmed/21227886
3. National Environmental Research Institute. AirGIS. Web. Dec. 6, 2011.
http://www.dmu.dk/en/air/models/airgis
Reviewed December 12, 2011
by Michele Blacksberg RN
Edited by Jody Smith
Tags: