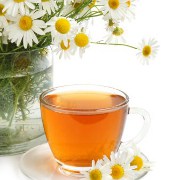 Photo: Getty Images
More than half of human cancers can be prevented by lifestyle choices, according to Dr. Sanjeev Shukla of Case Western Reserve University. A diet rich in fruits and vegetables is a good start. Shukla identified the flavonoid apigenin as one of the key ingredients in a cancer-fighting diet.
Apigenin is widely available in plant-derived foods including fruits, vegetables, wheat sprouts, spices, red wine, and even beer, Shukla reported. Chamomile tea is one of the best sources. Apigenin has been linked to cancer prevention in both epidemiological studies and lab experiments.
Shukla cited several examples of studies showing lower rates of cancer for people with high flavonoid consumption, including the following:
1. A case-control study of 2,569 women with breast cancer and 2,588 controls, conducted between 1991 and 1994. Controls had significantly higher flavonoid intake.
2. A case-control study of 1,031 women with ovarian cancer and 2,411 controls, conducted between 1992 and 1999. As in the previous study, controls had significantly higher flavonoid intake.
3. A large cohort study of 9,959 men conducted from 1967 to 1991, which showed lower rates of lung cancer and other malignancies in those with higher flavonoid intake.
Flavonoids in general are recognized for their antioxidant and anti-inflammatory properties. Apigenin deserves special consideration, according to Shukla, because of the exceptional distinction between its effects on normal cells and its effects on cancer cells. In lab studies, the primary action of apigenin is on the cell cycle, which is out of control in cancer cell division.
For ovarian cancer, Dr. Xiao-Wen Hu and collaborators at the Chinese Academy of Sciences reported that apigenin inhibits cancer growth and metastasis in mice by targeting specific proteins. For breast cancer, Dr. Xinghua Long and collaborators at Indiana University School of Medicine reported that apigenin inhibits both estrogen-dependent and estrogen-independent signaling pathways toward cancer proliferation.
Further research is in progress. I found apigenin in capsule form available on the Internet, but a healthy diet of whole plant foods may be an even better option. Not everyone will tolerate pure apigenin, but fruits and vegetables have an outstanding safety record.
References:
1. Shukla S et al, "Apigenin: A promising molecule for cancer prevention", Pharm Res. 2010 June; 27(6): 962-78. http://www.ncbi.nlm.nih.gov/pubmed/20306120
2. Hu XW et al, "Apigenin inhibited migration and invasion of human ovarian cancer A2780 cells through focal adhesion kinase", Carcinogenesis. 2008 Dec; 29(12): 2369-76. http://www.ncbi.nlm.nih.gov/pubmed/18974065
3. Long X et al, "Apigenin inhibits antiestrogen-resistant breast cancer cell growth through estrogen receptor-alpha-dependent and estrogen receptor-alpha-independent mechanisms", Mol Cancer Ther. 2008 Jul; 7(7): 2096-108. http://www.ncbi.nlm.nih.gov/pubmed/18645020
Reviewed June 15, 2011
Edited by Alison Stanton
Linda Fugate is a scientist and writer in Austin, Texas. She has a Ph.D. in Physics and an M.S. in Macromolecular Science and Engineering. Her background includes academic and industrial research in materials science. She currently writes song lyrics and health articles.
Tags: