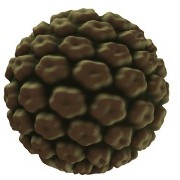 Photo: Getty Images
I came across an article today (Oct. 18, 2011) mentioning that Reuters reported the CDC's acknowledgement of the dramatic drop in those receiving the HPV vaccine. The article pointed out that once again, women were the focus of responsibility when it comes to being vaccinated and that not Reuters, or any other news organizations for that matter, ever seem to mention that men are capable of being vaccinated as well.
I've previously mentioned, that much like birth control, the burden continues to be placed on the female's shoulders in this regard.
Mothers of young boys need to start taking responsibility for getting their sons vaccinated as well. After all, it is all of these young girls with whom their sons will eventually be involved, isn't it? And, with the increase in oropharyngeal HPV cancers mainly affecting men, perhaps some degree of fear tactics is the only thing that will motivate some people.
While I wrote an article on this subject shortly after the CDC Update was released, what I find so amazing is that it took Reuters nearly two months to announce what the CDC had released on August 25th.
The CDC and associated agencies have done a pathetic job with the millions they have been allocated by Congress to educate both physicians and the public about HPV and the existing vaccines. Most women still learn about HPV at the time of diagnosis and didn't know a vaccine even existed before that.
The CDC, in a letter directly to me, claims to utilize the latest bioanalysis and statistical data when determining how to address these issues. While that may sound influential, it certainly hasn't influenced the number of those receiving the vaccine. It's just more government mumbo jumbo to justify wasting more taxpayer dollars with very little to show for it.
This is also again, in large part, the result of Merck having dropped the ball since its initial Gardasil commercials. Their commercials bombarded most TV channels yet when the FDA expanded approval for protection not only against cervical cancer and precancerous lesions but the same for vaginal, vulvar, and anal lesions there was no new wave of TV campaigns to trumpet the value of this vaccine, nor that young boys and men had been approved almost two years ago now at the end of 2009.
As many may be aware, my book entitled Any Mother's Daughter speaks to my own journey with HPV and cancer. It is endorsed and the foreword written by the most respected and acknowledged doctors in the world on the subject of HPV, and who made the discovery between HPV and cervical cancer, Professor Harald zur Hausen, MD. For this, he won the Nobel Prize in Medicine/Physiology in 2008.
While the book speaks to my own journey covering 25 years it also speaks to the biology of the virus, the vaccine, as well as the stigma and other issues which often accompany this virus. In Professor zur Hausen's words, "... it is a book not only for Any Mother's Daughter but for anyone who wishes to become informed about HPV, but it also belongs into the hands of many practicing physicians who need to refresh their knowledge of HPV."
I would think the CDC would have a difficult time finding issue with a book receiving endorsement from a Nobel Prize recipient on the subject, and one which could serve as an educational vehicle not only for patients but physicians as well. It isn't difficult at the very least for the CDC to place a link on their HPV website recommending this book.
Given their current statistics when it comes to increasing HPV vaccination it certainly couldn't hurt. That may be the most logical way to address the current situation, unfortunately, when has the government ever been known for doing anything logical?
Sources:
"The HPV Vaccination: One More Way That Safe Sex Has Become Women's Work | Blisstree." Blisstree - Serious Health and Wellness – Injected With Humor. N.p., n.d. Web. 18 Oct. 2011.
http://blisstree.com/live/the-hpv-vaccination-one-more-way-safe-sex-becomes-womens-work-457/comment-page-1/#comment-740270
"CDC Media Relations - Press Release: August 25, 2011." Centers for Disease Control and Prevention. N.p., n.d. Web. 19 Oct. 2011. http://www.cdc.gov/media/releases/2011/p0825_hpv_vaccine.html?source=govdelivery
Reviewed October 19, 2011
by Michele Blacksberg RN
Edited by Jody Smith
Tags: