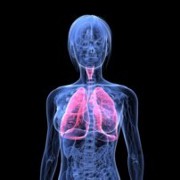 Photo: Getty Images
Some smokers get lung cancer and others do not. The reason for this may involve bacterial infection, according to a review by Dr. Seyed Javad Moghaddam of the University of Texas MD Anderson Cancer Center, Houston, Texas, and colleagues at three other research institutions. Nontypeable Haemophilus influenzae (NTHi) is the main culprit, they reported. This pathogen is similar to Haemophilus influenzae type b (Hib), which is a common cause of meningitis, pneumonia, and ear infections in children who have not been vaccinated against it. The nontypeable variety is missing the polysaccharide capsule present in Hib and other, less common varieties.
The NTHi bacteria colonize the upper respiratory tract of 75 percent of healthy individuals, and generally cause no problems. Lower respiratory tract infections, however, are common in adults with chronic obstructive pulmonary disease (COPD), and contribute to airway inflammation. COPD is strongly associated with smoking and lung cancer: five out of six COPD patients have a history of smoking. However, only 25 percent of smokers develop this condition. Those who do face an increased risk of lung cancer, which ranges from three-fold for mild COPD cases to ten-fold for severe COPD.
"The variable susceptibility to COPD most likely reflects genetic variations in the inflammatory and structural responses to inhaled smoke and to microorganisms colonizing the airways of smokers," Moghaddam reported. In one study, NTHi was found in the bronchial tissues of 87 percent of COPD patients experiencing exacerbations, and 33 percent of those with stable COPD.
Another report on the link between NTHi, cigarette smoke, and lung damage was provided by Dr. Pau Marti-Lliteras and colleagues at seven research institutions in Spain and United Kingdom. These authors reported that smoke impairs the ability of the immune system to clear bacteria from the lungs. Thus, some smokers develop recurrent bronchial infections which lead to progressive airway obstruction and lung cancer. Unfortunately, the glucocorticoid drugs which reduce inflammation also impair the immune system's ability to fight infection. Treatment of COPD with glucocorticoids is associated with increased risk of pneumonia caused by opportunistic bacteria such as NTHi.
Moghaddam noted that smokers with COPD experience continued inflammation and lung function deterioration even if they quit smoking. Bacterial infection is a possible explanation. "A straightforward strategy to reduce the incidence of COPD is the prevention of tobacco consumption," Moghaddam commented. However, for smokers with COPD, it's not enough to quit. Further research is needed to treat the processes started by smoking, including infection by NTHi.
References:
1. Moghaddam SJ et al, "Nontypeable Haemophilus influenzae in chronic obstructive pulmonary disease and lung cancer", International Journal of COPD 2011; 6:113-23.
http://www.ncbi.nlm.nih.gov/pubmed/21407824
2. Marti-Lliteras P et al, "Nontypeable Haemophilus influenzae clearance by alveolar macrophages is impaired by exposure to cigarette smoke", Infection and Immunity 2009 Oct.; 77(10): 4232-42. http://www.ncbi.nlm.nih.gov/pubmed/19620348
Reviewed August 15, 2011
by Michele Blacksberg R.N.
Edited by Jody Smith
Linda Fugate is a scientist and writer in Austin, Texas. She has a Ph.D. in Physics and an M.S. in Macromolecular Science and Engineering. Her background includes academic and industrial research in materials science. She currently writes song lyrics and health articles.
Tags: