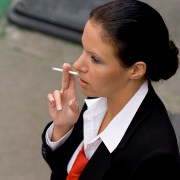 Photo: Getty Images
There's more bad news for cigarette smokers. The risk for bladder cancer is higher than previously reported, according to new data from scientists at the National Cancer Institute (NCI) at the National Institutes of Health. The study found the risk in women is now comparable with that of men.
Previous published studies showed 20 to 30 percent of all bladder cancers in women are attributable to smoking. The actual number is closer to 50 percent, according to new data published Aug. 16, 2011 in the Journal of American Medical Association (JAMA).
Tobacco smoking is widely acknowledged as the single greatest contributor to bladder cancer. The risk of developing bladder cancer brought on by smoking, called "excess risk" is four times higher than that of a nonsmoker. Former smokers have twice the excess risk of developing bladder cancer as never-smokers, the study says. Previous studies found the excess risk was three times higher in smokers.
"As with many other smoking-related cancers, smoking cessation was associated with reduced bladder cancer risk. Participants who had been smoke-free for at least 10 years had a lower incidence of bladder cancer compared to those who quit for shorter periods of time or who still smoked," the study said.
The new study's author, Dr. Neal Freedman with NCI's Division of Cancer Epidemiology and Genetics (DCEG) said in a prepared statement that the stronger association between smoking and bladder cancer is possibly due to changes in cigarette composition or smoking habits over the years.
Although cigarette companies have reduced the concentrations of tar and nicotine in cigarette smoke, there have been apparent increases in the concentrations of certain carcinogens associated with bladder cancer, according to NCI.
"Incidence rates of bladder cancer in the United States have been relatively stable over the past 30 years, despite the fact that smoking rates have decreased overall. The higher risk, as compared to studies reported in the mid-to-late 1990s, may explain why bladder cancer rates haven't declined," Freedman said.
The Centers for Disease Control and Prevention (CDC) surveillance observed the increase in the proportion of smoking-related bladder cancer cases among women may be a result of more U.S. women smoking in the population overall, now equal to that of men. Overall, about 20 percent of the U.S. adult population are smokers.
An earlier study, the 2009 NCI/DCEG study based on the New England Bladder Cancer Study, was the first to report the association between bladder cancer and smoking is stronger than in the mid-1990s. The newest study confirms the 2009 report, Freedman says.
In 2011, approximately 69,250 people will be diagnosed with bladder cancer in the United States, and 14,990 will die from the disease, NCI reports. The latest NCI study uses data from over 450,000 participants in the NIH-AARP Diet and Health Study, a questionnaire-based study initiated in 1995, with followup through the end of 2006.
For more information about smoking cessation, and resources for those who want to quit, please visit: http://smokefree.gov or call 1-800-QUIT-NOW.
Lynette Summerill, an award-winning writer and scuba enthusiast lives in San Diego, CA with her husband and two canine kids. In addition to writing about cancer-related issues for EmpowHER, her work has been seen in newspapers and magazines around the world.
Sources:
Association between smoking and risk of bladder cancer among men and women. Freedman ND, Silverman DT, Hollenbeck AR, Schatzkin A, Abnet CC. JAMA. 2011 Aug 17 ;306(7):737-45. Abstract online: http://www.ncbi.nlm.nih.gov/pubmed/21846855
National Institutes of Health. News announcement.16 Aug. 2011.
http://www.nih.gov/news/health/aug2011/nci-16.htm
CDC. Bladder cancer and the environment. http://ephtracking.cdc.gov/showCancerBladderEnv.action
Reviewed August 30, 2011
by Michele Blacksberg R.N.
Edited by Jody Smith
Tags: