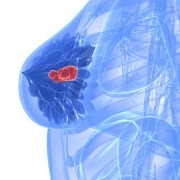 Photo: Getty Images
Breast cancer is the most commonly diagnosed cancer in women, and one of the most easily treated if it's caught early. Medical researchers have performed studies to compare different treatment options. Dr. Beth M. Beadle and colleagues at the University of Texas MD Anderson Cancer Center reviewed these results, with a focus on the effects of age.
"A significant number of well-designed and well-executed randomized trials with extensive follow-up have shown that BCT [breast conserving therapy], defined here as lumpectomy followed by whole-breast radiation therapy, is equivalent to mastectomy for women with early-stage breast cancer," Beadle reported.
However, the effects of age have not been as well-studied. Women over age 70 have been excluded from most randomized trials, because of concerns about other health conditions that could affect their response to breast cancer treatment, as well as toxicity problems and the possibility of poor compliance.
At the other end of the age spectrum, women under age 40 have a low incidence of breast cancer, so it is more difficult to find enough patients in this age range for statistical analysis.
Mastectomy is not a complete cure, Beadle pointed out, because cancer can still recur on the chest wall. Therefore, radiation and chemotherapy may be appropriate even with mastectomy for patients with more aggressive tumors.
However, aggressive treatment has its own toxicity, and should be used only with careful consideration of its risks and benefits. While data on the effects of age are limited, Beadle noted that younger women tend to have more aggressive tumors, while older women are more susceptible to the toxic effects of aggressive therapy.
"Arguments can be made that more aggressive locoregional therapy is warranted in populations of young women with breast cancer and perhaps less aggressive therapy in the elderly," Beadle concluded.
Data on breast cancer mortality as a function of age were provided by Dr. Bircan Erbas and colleagues at six research institutions in Australia. Both the number of cases and the number of deaths increase with age. Since 1990, mortality has been decreasing for all age groups except those 85 and over. Erbas used a statistical method to predict breast cancer mortality rates over the next 20 years. Women aged 60 to 70 are expected to see the greatest declines in death from breast cancer.
References:
1. Beadle BM, "The impact of age on outcome in early-stage breast cancer", Semin Radiat Oncol. 2011 January; 21(1): 26-34. http://www.ncbi.nlm.nih.gov/pubmed/21134651
2. Erbas B et al, "Using functional data analysis models to estimate future time trends in age-specific breast cancer mortality for the United States and England-Wales", J Epidemiol 2010; 20(2): 159-65. http://www.ncbi.nlm.nih.gov/pubmed/20139657
Linda Fugate is a scientist and writer in Austin, Texas. She has a Ph.D. in Physics and an M.S. in Macromolecular Science and Engineering. Her background includes academic and industrial research in materials science. She currently writes song lyrics and health articles.
Reviewed September 2, 2011
by Michele Blacksberg R.N.
Edited by Jody Smith
Tags: