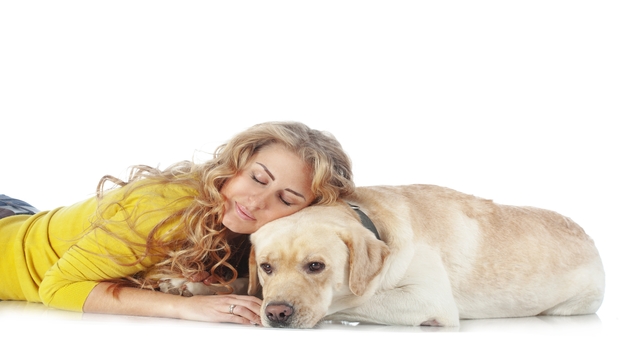 Alena Ozerova/PhotoSpin
Have you ever wondered if cancer has a distinct scent?
It's apparently an intriguing question — one that's asked multiple times in forums around the Internet.
The question first piqued the interest of researchers years ago when anecdotal reports arose of dogs sniffing out cancer in their owners long before doctors knew a tumor existed.
Since then, researchers have been trying to definitively answer that question. But to what end?
"The goal, ultimately, is to be able to measure something through a lab test that is produced specifically by a cancer, and that would allow us to become aware a cancer is present before it can be felt by examination, or found by an x-ray or other imaging test. Then, maybe the cancer could be treated before it ever becomes a problem," said Dr. Len Lichtenfeld, Deputy Chief Medical Officer for the American Cancer Society, who has blogged about the subject.
German researchers made big news in 2011 when they showed dogs, in fact, could be trained to sniff out lung cancer in patients without any symptoms of the disease.
The study, published in the European Respiratory Journal, demonstrated that a dog's keen sense of smell could pinpoint trace amounts of chemicals known as volatile organic compounds (VOCs) produced by early-stage tumors.
The German study was replicated in 2012 by Austrian researchers.
Last week, Israeli and Chinese researchers announced that they have successfully detected early-stage stomach cancers with a simple breath test.
While theirs is not the first to use smell as a means to detect illness, it does offer a breakthrough for finding stomach cancer when it is most treatable.
The researchers used a sensor made of nanomaterials — a kind of mechanical canine nose — to detect a unique chemical profile in the air patients exhaled when cancer was present.
Though the first clinical trial was small with 130 patients, and though the results are considered preliminary, the researchers were able to differentiate between cancer and other stomach complaints with more than 90 percent accuracy.
The breath test also correctly discerned between early-stage and more advanced cancers with a high degree of accuracy, according to the study published online in the British Journal of Cancer.
Professor Hossam Haick, lead researcher from the Technion – Israel Institute of Technology, is optimistic that the breath test may offer patients a less invasive means of testing for stomach cancers — and more benign complaints — in the future. A larger clinical trial is in the works.
Detecting stomach cancer early is the first step in saving lives. Unfortunately, global stomach cancer survival rates are low.
In the United States 21,600 people will be diagnosed with stomach cancer this year. About half (10,990) will die as a result of their cancer, according to National Cancer Institute estimates.
Stomach cancer can be detected with a highly unpleasant endoscopic examination, in which a flexible tube is inserted through the nose and into the digestive system. However, by the time symptoms appear and tip off doctors to do the exam, the cancer may have already started to spread.
"Only one in five people are able to have surgery as part of their treatment as most stomach cancers are diagnosed at stages that are too advanced for surgery," said Kate Law, the director of clinical research at Cancer Research UK, said in a statement.
"Any test that could help diagnose stomach cancers earlier would make a difference to patients' long-term survival."
Lynette Summerill is an award-winning writer and Scuba enthusiast who lives in San Diego with her husband and two beach loving dogs. In addition to writing about cancer-related issues for EmpowHER, her work has been seen in publications around the world.
British Journal of Cancer (2013) 108, 941-950. Published online 5 March 2013. Doi:10.1038/bjc.2013.44 "A nanomaterial-based breath test for distinguishing gastric cancer from benign gastric conditions. Z-q Xu, YY Broza, R Ionsecu, et al.
http://www.nature.com/bjc/journal/v108/n4/abs/bjc201344a.html
"Scientists develop a breath test that could detect stomach cancers." Press Release:Cancer Research UK. 6 March 2013. Access online:
http://www.cancerresearchuk.org/cancer-info/news/archive/pressrelease/2013-03-06-breath-test-for-stomach-cancers?ssSourceSiteId=funding&view=rss
Rainer Ehmann, Enole Boedeker, Uwe Friedrich, Jutta Sagert, Jürgen Dippon, Godehard Friedel, Thorsten Walles. "Canine scent detection in the diagnosis of lung cancer: Revisiting a puzzling phenomenon." European Respiratory Journal, 2011; DOI: 10.1183/09031936.00051711.
http://erj.ersjournals.com/content/39/3/669
"Dogs and the Early Detection of Cancer." Dr. Len's Cancer Blog.
http://www.cancer.org/aboutus/drlensblog/post/2006/01/11/dogs-and-the-early-detection-of-cancer.aspx
Stomach (Gastric) Cancer. National Cancer Institute.
http://www.cancer.gov/cancertopics/types/stomach
Reviewed March 12, 2013
by Michele Blacksberg RN
Edited by Jody Smith
Tags: