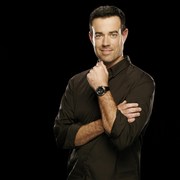 Photo: Courtesy of NBC
For 10 seasons, MTV's hit show "Total Request Live" made Carson Daly a household name. The delicious after-school snack, hosted and produced by Daly, defined an entire generation by serving up the hottest music videos and biggest celebrities.
Much to the consternation of teens everywhere, the show ended in 2008. But that wasn't the end of Carson Daly.
These days he is a very busy man. The host of NBC's "Last Call with Carson Daly" and "The Voice" juggles work, family and social causes, so I was darn lucky to catch up with Carson this week to talk about two topics close to his heart.
Between his radio show, "Mornings with Carson Daly" on Los Angeles' 97.1 AMP Radio and a flight out of LAX, we talked to Carson about Breakaway from Cancer, a patient and caregiver online resource network and the Amgen Tour of California.
In case you're not familiar with it, the Tour of California is the state's premier professional cycling stage race that draws in top-ranking cyclists and teams from around the world.
The eight-day race, now in its seventh year, is not only a way to showcase nearly 800 miles of the Golden State's highways and roadways. The tour is a free sporting event dedicated to educating Californians and enthusiasts worldwide about maintaining a healthy lifestyle.
This Sunday, May 20, 2012, the last stage of the race will send cyclists whirling down city roads from Beverly Hills to downtown Los Angeles, and the public is invited.
But before the pro riders enter the circuits in downtown LA, Carson Daly will be on hand for Breakaway Mile, a celebration race to recognize cancer survivors and their caregivers. The free public event is sponsored by Breakaway from Cancer.
EmpowHer:
Hi Carson, thank you for taking time today to talk with Empowher about Breakaway from Cancer and the Amgen Tour of California.
Carson Daly:
Thank you, it's my pleasure.
EmpowHer:
How did you become a cancer crusader?
Carson Daly:
Well, it was not by choice. I lost my father to bladder cancer when I was five. My mom, Pattie Daly Caruso, was diagnosed with breast cancer 10 years ago, beat it and survived.
EmpowHer:
What convinced you to join Breakaway from Cancer?
Carson Daly:
There's a lot of great causes out there and I do as much as I can. This opportunity to work with Amgen on the Tour became available through my radio station.
I'm an avid cycling enthusiast so there was just an organic connection, and I jumped at the chance to be part of it.
EmpowHer:
As an avid cyclist yourself, will you be riding in the Amgen Tour of California on Sunday?
Carson Daly:
I'm going to win the Tour, I'm just announcing that to you right now. Actually, I will be in the amateur section with my good friend Patrick Dempsey, and I will probably be huffing and puffing. My 3-year-old could probably pass me on his trike, but I am very excited to be a part of it.
EmpowHer:
What is the most thrilling part of the Tour for you?
Carson Daly:
I am one of those people who gets up at 3 a.m. just to watch the Tour de France on TV, so I am really proud that the outstanding vistas and stunningly beautiful landscapes of California are being broadcast to people watching from around the world.
I really love watching the cyclists battle the hills. It's such a fight. It's a relationship of strength and will. I think that is a lot like a person's battle with cancer.
EmpowHer:
What was it like for you to support your mother while she was battling breast cancer?
Carson Daly:
It was really difficult for me. When cancer comes into your living room and afflicts yourself or someone close to you it's scary. I was living in New York at the time and my mom was in California, so the distance made dealing with her cancer even tougher for me.
I learned a lot about cancer during her treatments though. Luckily, breast cancer is not the death sentence it used to be, especially when it is caught early. Cancer came into our family as an uninvited guest and now it's left our family.
That's the message I want to relay to others going through that struggle now. It is possible to make cancer leave. That's why I am so excited to be part of Breakaway from Cancer.
The web site has such great information about cancer, treatment, recovery, financial sources and prevention. That is information that wasn't out there when our family was going through our cancer battles and I really wish it would have been.
EmpowHer:
Your mother is such an icon of the Coachella Valley. In 2004, she was honored with the Lifetime Television's Hero award in 2004 for her commitment to raising awareness and funding research for breast cancer. We're so happy she is doing well.
Carson Daly:
Thank you. My mom is such a great spokesperson for cancer. She does a television show in Palm Desert, Calif., and takes every opportunity on the show to educate people about cancer and the importance of screening and research. I'm really proud of her.
Empowher:
So we'll see you at the Tour's Breakaway Mile on Sunday?
Carson Daly:
Yes, I'll be there in my finest racing regalia. I am looking forward to talking with cancer survivors and their families. It should be a really fun day.
EmpowHer:
Thank you again for talking with us, Carson.
Carson Daly:
Thank you.
Lynette Summerill is an award-winning writer and Scuba enthusiast living in San Diego, CA with her husband and two beach loving dogs. In addition to writing about cancer-related issues for EmpowHER, her work has been seen in newspapers and magazines around the world.
Edited by Jody Smith